Leaders of the Siberian Evangelical Lutheran Church (SELC) and The Lutheran Church–Missouri Synod anticipate that discussions they began at a Jan. 27 meeting in St. Louis will lead to formal altar and pulpit fellowship between the two church bodies.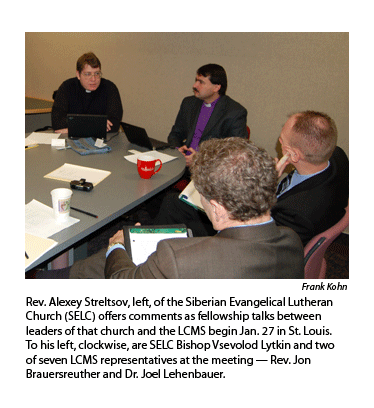 LCMS Director of Church Relations Dr. Samuel Nafzger, who chaired the meeting, said that its purpose was "to discuss and decide together how we can best get to where we all want to go."
Representing the Siberian church for the meeting at the LCMS International Center were SELC Bishop Vsevolod Lytkin and Rev. Alexey Streltsov, rector of Lutheran Theological Seminary in Novosibirsk, Siberia. Dr. Timothy Quill, director of the Russian Project of Concordia Theological Seminary, Fort Wayne, accompanied them.
Synod representatives were Nafzger, LCMS Secretary Dr. Raymond Hartwig, Assistant to the President Rev. Jon Braunersreuther, Commission on Theology and Church Relations (CTCR) Executive Director Dr. Joel Lehenbauer, Board for Mission Services Executive Director Dr. Thomas Zehnder, Board for Mission Services Associate Executive Director Dr. Daniel Mattson, and Board for Human Care Ministries Executive Pastoral Assistant Dr. Albert Collver. LCMS President Dr. Gerald B. Kieschnick was not able to attend, due to a schedule conflict.
The meeting started with a review of contacts that began in the 1990s between leaders of the two church bodies, after which Lytken stated the SELC's appreciation for its close relationship with the Missouri Synod in the years since.
Lytkin also provided a brief history of his church body, including its official licensing by the Russian government in 2002 and his consecration as bishop in 2007, the same year that the church's present name was officially recognized. He described the SELC for those at the meeting as "a small church with 2,000 parishioners, 22 parishes and mission stations, and 17 clergy serving a very large country," noting that its borders cover a geographical area of some 5,000 miles from east to west.
Discussion that followed centered primarily around how the LCMS might proceed toward the goal of declaring altar and pulpit fellowship with the SELC. A document prepared by the CTCR titled "Church Relations in the 21st Century" was reviewed and its applicability to SELC/LCMS fellowship talks was discussed by LCMS representatives at length.
A joint news release about the meeting notes that "all present supported responsible pursuit of church fellowship based on agreement in doctrine and practice. All also agreed to look for ways to expedite the process."
There is "a lot of interest in what is going on in this room today," Nafzger said of the meeting.
The release concludes that "the next step in the process toward formal altar and pulpit fellowship will be an early meeting arranged by SELC Bishop Lytkin and LCMS President Kieschnick."
Posted Feb. 18, 2010