Dr. Karl Galik, a 27-year veteran LCMS pastor in Gainesville, Fla., has joined Grace Place Lutheran Retreats as associate director for congregational minis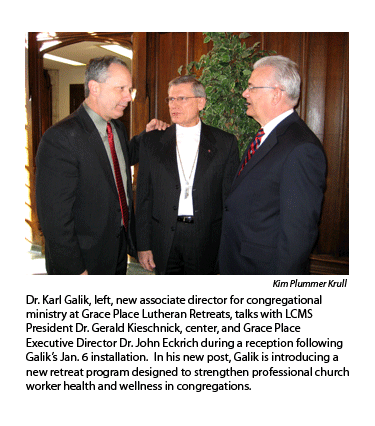 try to introduce a new retreat program to strengthen professional church worker health and wellness in congregations.
LCMS President Dr. Gerald B. Kieschnick officiated at Galik's installation service, Jan. 6 at Concordia Seminary, St. Louis.
"A healthy Synod requires healthy congregations; healthy congregations require healthy pastors. And that's the Grace Place mission — to build healthy pastors," Kieschnick said of the Recognized Service Organization that provides preventive health and wellness continuing education for pastors, teachers, and other professional church workers.
Since 1999, Grace Place has offered biblically based mini-sabbaticals in scenic locales for professional church workers to grow in their personal lives and ministries. A decade later, Grace Place Executive Director Dr. John Eckrich saw a need to expand the ministry into congregations and offer "encouraging, Christ-centered wellness events and resources to weave wellness dynamics into the mission fabric of congregational leadership."
Galik explains that the new congregational retreats will offer practical, everyday tools to help church leaders incorporate the healthy care and management of self in their ministries and strengthen relationships with staff and lay leaders. The first pilot congregational retreat will take place Sept. 10-12 at Concordia Lutheran Church, Kirkwood, Mo. Several more pilot retreats are in the works.
Galik most recently served as senior pastor at St. John Lutheran Church, Rochester, Mich. His former posts also include: administrative pastor, Zion Lutheran Church, Hopkins, Minn.; director of pastoral care and counseling, Peace Lutheran Church, Hurst, Texas; and pastor, Our Savior Lutheran Church, Sulphur Springs, and Good Shepherd Lutheran Church, Mount Pleasant, Texas.
Galik's many academic degrees include a doctor of ministry in leadership from Luther Seminary, St. Paul, Minn., and master's of divinity from Concordia Seminary, St. Louis.
This year's Grace Place retreat schedule begins with the eighth annual retreats for seminary seniors and their spouses, aimed at what Eckrich calls "inoculating" the future pastors for healthy ministry as they take their first calls. The Concordia Theological Seminary retreat is Feb. 27-28, on the Fort Wayne campus. The Grace Place retreat for Concordia Seminary students is March 4-7, Trout Lodge, Potosi, Mo.
To learn more about Grace Place, call 314-842-3077 or visit www.graceplaceretreats.org.
Posted Jan. 20, 2010