James H. Heine, editor of The Lutheran Witness magazine since 2007, is the new director of N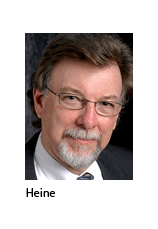 ews and Information Services for the Synod's Board for Communication Services (BCS).
This month, Heine, 59, accepted an appointment from the board to the post, which has been vacant for nearly five years. He succeeds Rev. David L. Mahsman, director of special assignments, Eurasia, for LCMS World Mission, and managing director of the International Lutheran Society of Wittenberg.
Among his new duties, Heine will serve as executive editor of the Synod's official periodicals, The Lutheran Witness and Reporter.
In a note to readers in the February issue of The Lutheran Witness, BCS Executive Director David Strand says Heine "brings a host of credentials and experience to his new job: Nearly 20 years as an editor at Concordia Publishing House, a decade running his own editorial-services firm, and more recently, his work as the day-to-day overseer of the Synod's flagship publication (for which he helped to enact a number of improvements, including the Witness's Web site) put Jim in good stead to assume his new responsibilities.
"We consider ourselves blessed to have someone of Jim's gifts and integrity atop our News and Information department," Strand says.
"I am honored — and humbled — to be named the director of News and Information Services," Heine said. "I look forward to the tasks ahead, and I pray that I will serve our Synod and the Christian faith well."
The February issues of both the Witness and Reporter carry ads seeking applicants for Heine's former post: managing editor of The Lutheran Witness.
Posted Jan. 13, 2010