OMAHA, Neb. — "Spirit Driven" (2 Tim. 1:7) was the theme of the 93rd International Convention of the International Lutheran Laymen's League (Lutheran Hour Ministries) held here July 22-25. The theme was designed to remind attendees of the gift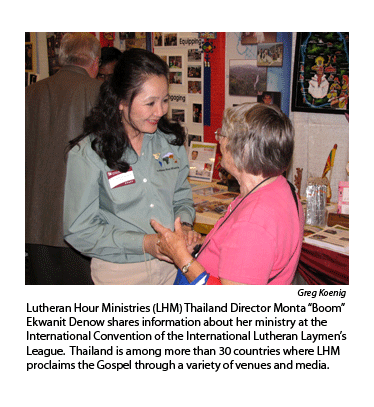 s necessary to carry out God's work — power, love and self-discipline — to reach out to others with the Gospel.
"As economic challenges continue across this country and the world, God has blessed the International Lutheran Laymen's League and Lutheran Hour Ministries," Int'l LLL President Michael "Mick" Onnen told the more than 1,000 attendees during one of the convention's general sessions.
"Spirit-driven volunteers and supporters like you stepped to the plate to ensure that the ministry's financial needs were met so the Gospel message of our Savior is shared around the world and churches are supported as they reach out with His love," he added.
In business sessions during the convention, delegates re-elected Onnen, of Davenport, Neb., to the position of president and Mark Dunlop, of St. Louis, as financial secretary.
Also elected were seven regional governors:
Neil Widstrom, Tifton, Ga., Region 2;
Jerry Brown, Seymour, Ind., Region 4;
Edward Bieno, Stevens Point, Wis., Region 6;
Chuck Schild, Schaumburg, Ill., Region 8;
Gary Rohloff, Fort Wayne, Texas, Region 10;
William "Bill" Snow, Watertown, Wis., Region 12; and
Steven Rice, Lancaster, California, Region 14.
In an unexpected appearance, Rev. Matthew Harrison, president-elect of The Lutheran Church–Missouri Synod, told attendees that the Int'l LLL will continually be in his prayers.
"May you be blessed in every way so that the Gospel can go everywhere," Harrison said.
Rev. Ken Klaus, speaker since 2002 of "The Lutheran Hour," the organization's flagship radio program, was recognized for his years of service. He will be retiring at the end of 2010.
"Speakers, like the years, have come and gone," Klaus said, "but by God's grace, and through your continuous commitment, The Lutheran Hour has continued to proclaim a crucified and risen Christ to a lost and dying world."
Lutheran Hour Ministries' (LHM) International Ministry Center directors from more than 30 countries told attendees about their mission work. A "Global Village" event offered an evening of music provided by a Christian mariachi band from Texas, a performance from dramatist Lucas Baloyi from LHM — South Africa, and international cuisine.
LHM teamed up with the LCMS Nebraska District to present "Prairie Fire 2010," an event that included outreach training and motivational worship services on the convention's final day. Following a keynote address by LCMS First Vice-President Dr. William Diekelman, attendees chose from 36 breakout sessions led by nationally known speakers who discussed ministry and mission work. Participants also learned about various outreach resources offered by LHM and how Nebraska congregations are carrying out their outreach ministries.
At that evening's worship service, Klaus said Christians face a situation similar to what the early settlers encountered in the fall and spring prairie fires.
"Our struggle is not against flesh and blood, but against the rulers, against the authorities, against the powers of this dark world and against the spiritual forces of evil in the heavenly realms," he said. "These are the powers who have set the fire you see upon the horizon. Their fire is coming, and if your parish is to stand a chance, if your family is to survive spiritually, it is necessary to show the importance of God's love which surrounds us. Jesus' life, suffering, death and resurrection is the firebreak we need."
A special part of the celebration service included a "Parade of Nations" flag procession representing each of the countries where LHM shares the Gospel. Ministry center directors carried their nations' flags and dressed in cultural attire.
Other convention events included a men's lunch at Rosenblatt Stadium to watch the world premiere of an upcoming "Men's NetWork" Bible study on the stadium's "jumbotron," a women's luncheon featuring an interview between "Woman to Woman" host Phyllis Wallace and Christian humorist Jan Struck, and a discussion about the past, present and future of The Lutheran Hour program between Klaus and Dr. Paul Maier, son of the program's original speaker.
The Int'l LLL, an auxiliary of the LCMS and Lutheran Church-Canada, is a Christian outreach ministry supporting churches worldwide in its mission of "Bringing Christ to the Nations — and the Nations to the Church." LHM produces Christian radio and TV programming for broadcast, as well as Internet and print communications, dramas, music and outreach materials, to reach "unchurched" people in more than 30 countries.
For more information, visit the LHM website at www.lutheran hour.org.
Posted Aug. 4, 2010