Rev. Jotham Johann of Centreville, Va., is serving on a contract basis as consultant to LCMS World Mission National Missions.
Johann, 42, previously served LCMS World Mission the past four years as direc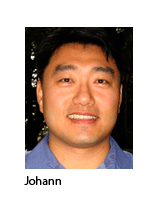 tor of National Mission Affiliates, overseeing the Synod's mission efforts among specific cultural and other specialized groups within the United States.
In his new position, which he began serving Feb. 1, Johann provides direction for the mission board's National Mission Team as it provides resources for church planting, faith sharing, and congregation revitalization. Many of those duties were previously the responsibility of Dr. Robert Scudieri, who retired last year as associate executive director of LCMS World Mission.
"Without strong church planting, the people of the LCMS cannot continue to make a significant impact for Christ in our communities and the world," Johann said. "Faith-sharing defines our church body, in many ways. We not only believe that Christ is our Savior, but vocationally share that belief with those who yet do not have a relationship with Jesus."
Referring to the Ablaze! faith-sharing initiative to reach 100 million people with the Gospel, Johann said the Synod will not be able to reach that goal "unless more of our members are motivated, inspired, mustered, and focused on sharing the Good News."
"Revitalization" also is vital, he said, since many LCMS congregations are declining. With available resources designed to help them become "renewed, healthier, and more effective" in their ministries, revitalization efforts, he said, "can provide momentum to many of our congregations and help them have an enormous impact for Christ in their communities, North America, and around the world."
In an interview with Reporter, Johann said his goals include raising up a younger generation of mission leaders, including those with immigrant backgrounds who could serve specific cultural groups in the United States.
He also wants to encourage growing congregations to start satellite ministries — including cross-cultural ministries — to reach more people with the Gospel.

Born in Jinhae, South Korea, Johann studied at the Juilliard School for the Performing Arts, New York; Concordia College, Bronxville, N.Y.; the Boston College School of Law, Chestnut Hill, Mass.; and Concordia Theological Seminary, Fort Wayne, Ind.
He has served as president and executive director of the Center for Asian Missions and Evangelism (CAME), an LCMS-affiliated mission agency that works among Asians in North America and Asia. Prior to his work with CAME, Johann practiced law in New York City, specializing in immigration and adoption law.
Posted April 1, 2010