In a Dec. 3 e-mail to LCMS employees, Rev. David Birner, director of international mission for LCMS World Mission, announced staff changes in LCMS World Mission.
In the e-mail, Birner announced that:
Rev. Theodore "Ted" Krey, LCMS missionary and church planter/developer in the Dominican Republic and formerly in Venezuela, has been named regional director for Latin America and the Caribbean with LCMS World Mission, effective Jan. 1.
Krey, a 2001 graduate of Concordia Theological Seminary, Fort Wayne, has nearly 10 years of experience in international ministry and "is distinctly suited for leading the church's work in Central and South America, particularly identifying new mission fields, developing new churches and training church leaders," Birner said.
Krey will continue his work with the Dominican Republic Lutheran Mission in Santiago, Dominican Republic, while serving as regional director.
"Our sufficiency is of Christ," Krey said of his new position and the Synod's mission. "He gives us what is needed to witness of Christ crucified throughout South and Central America. Lord have mercy."
Krey succeeds Dr. Jorge Groh, who will leave the post Dec. 31. He has held it since 2004.
"I give thanks to God for Dr. Groh's leadership and know that many people have benefited from his years of service with LCMS World Mission,"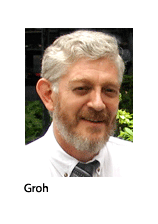 Krey told Reporter, "and I pray the Lord's continued guidance upon both Dr. Groh and [his wife] Olga in their continued life together in the new path that the Lord is taking them upon."
Birner said the Synod "has a rich heritage of building on the work of those who have gone before. This is our legacy, and it is more than a century strong. Jorge and Olga have been instrumental in building foundational relationships with our Latin America partners, who are committed, engaged and actively participating with us in mission today. For that, I thank God. And I know He will bless Ted's work in his new role."
Posted Dec. 8, 2010