By Joe Isenhower Jr.
NASHVILLE, Tenn. — Participants say they have a new sense of "oneness" and are better equipped for faith-sharing after the Lutheran Church Extension Fund's 2010 Fall Leadership Conference here Nov. 19-21.
"That all of them may be one," based on Jesus' prayer in John 17:21, was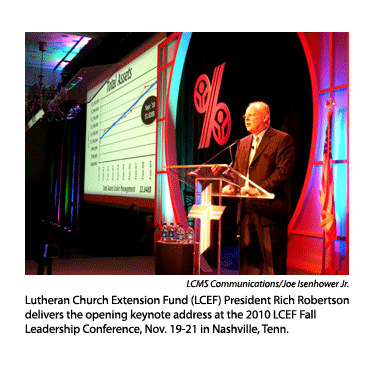 the theme of the conference that brought together more than 650 LCMS and Church Extension leaders representing congregations, districts and the national church body.
They heard presentations by Synod and LCEF leaders; attended "breakout" sessions, including a servant event to sign Christmas cards and write letters of hope to more than 1,500 U.S. military personnel serving in Afghanistan; worshiped; and honored individuals, congregations and others for significant milestones and ministries.
Steve Strauch, executive for Gift Planning and Development with the LCMS Indiana District, told Reporter that two things stood out for him as a first-time attendee: "how friendly everyone … was" and that "all of the presenters showed true passion that could be felt from within."
Strauch said the speakers' "ability to bring 'one' to mean we are all one in Christ was inspirational. The challenge to go back and … be a witness for Christ was powerful."
Sue Green, for whom this was her "seventh or eighth" fall conference, said she found LCMS President Rev. Matthew C. Harrison's and LCEF President Rich Robertson's presentations to be "thought provoking and intelligent."
"The fellowship of believers is a powerful, uplifting experience," she said of the Sunday worship service. "It gives a tiny glimpse of what worship in heaven may be like."
"Given that this was my first conference as LCEF president," Robertson told Reporter, "I was pleased to hear that people left the conference re-energized for ministry."
"Our goal when we set the agenda was to offer information that helps attendees as they work to make disciples of all nations," he said. "We also seek to provide motivation to build ministry partnerships, as well as inspiration through fellowship and worship opportunities."
Robertson addressed the conference twice — in the opening plenary session and during the organization's required annual meeting.
In both presentations, he mentioned challenges — including the difficult economic realities of the current recession, as LCEF continues to provide responsible stewardship of $1.8 billion in total assets and a loan portfolio totaling $1.5 billion for ministries synodwide. He also enumerated many positive aspects of LCEF's performance in ministry support through an array of services.
During the annual meeting, Robertson said LCEF has increased its reserves to cover delinquent loans, which remain far below national averages, and provides financial resources for ministries with troubled loans. He also thanked the LCEF Board of Directors for its approval of a distribution of earnings to the Synod and districts totaling $700,000.
Work 'as one'
"Let's have a conversation this weekend about how we can, and must, work together as one, to face whatever further challenges come our way," Robertson said after reading the conference-theme Bible verse to the assembly. "We're here in Nashville to celebrate and solidify our partnerships and perhaps mend where mending is appropriate. Let's share our hurdles, triumphs and hopes for the future with the goal of glorifying Him."
Robertson also reminded conference attendees of other types of challenges, such as last May's flooding in Nashville that caused more than 20 deaths and millions of dollars in destruction.
The LCMS Mid-South District, host district for the conference, chose to expend "funds typically used for gifts to attende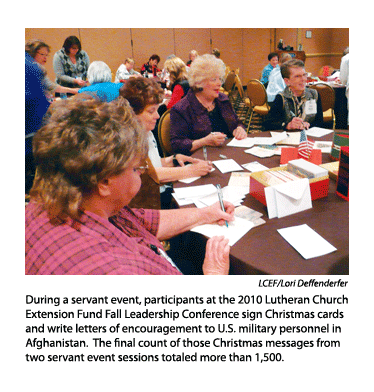 es … and redirect those funds to aid this community," Robertson said.
In fact, that aid to Nashville totaled $10,000 — $2,500 from the district, which LCEF then matched, with LCMS World Relief and Human Care matching both gifts.
LCEF also matched the Sunday-morning conference offering of more than $13,500, providing $27,000-plus to Bethlehem Lutheran Church in St. Louis, which received the 2010 Fred E. Lietz Mission Project Award at the conference.
Bethlehem was honored for entering partnerships and securing enough funds through federal and state tax credits and loans – including one from LCEF – to build 58 new housing units to turn around the declining neighborhood where the church is located.
In his keynote address, Harrison told the conference, "There's never been a better moment in history for us credal Lutherans to be exactly who we are than right now."
Being 'who we are'
"Church after church" is approaching the LCMS for "a serious confession of faith that can stand against the tide of all that the devil, the world and the flesh can throw at us today. Today is the moment for us to be exactly who we are," Harrison said.
He introduced the Synod's new emphasis of witness, mercy, life together and the importance of repentance in witness.
There is an "interesting divide" in the Synod between those who emphasize witness or confession, Harrison said, but pointed out that "witness and confession are synonyms in the New Testament."
"Mercy is who we are in Jesus," he continued. "We cannot be any other way. It is who Jesus is."
"We have this Jesus together," Harrison said in reference to life together. "We are members of one another. We are one body.
"My friends, we are placed at a unique spot in the world with precisely a witness, a heart for people in need and a determination to live together in this community."
Rev. Ken Klaus, who retired Dec. 31 as speaker of "The Lutheran Hour," discussed the church's priorities, including unity, during his keynote.
He recalled hearing some 40 years ago a quote attributed to Billy Graham that "The Missouri Synod is a sleeping giant and if she were ever to awaken, she would … .
"I've forgotten what it was he said we were gonna do," Klaus said, "but I'm pretty sure it was something very, very special. And back then those words made me feel good."
"Is it possible that Dr. Graham's assessment of us was wrong?" Klaus asked, as he introduced the prospect that internal strife over the years has hindered outreach and that "unused spiritual muscles slowly atrophied."
He asked why during the years between 1970 and 2000, "when the United States grew by 74 million people, our church lost 350,000.
"It is time for us and our houses to serve the Lord with a newfound unity and purpose," Klaus said. "People — especially those empowered by the Holy Spirit — can and do change."
"If the sleeping giant is to take a stand against the old evil foe, if we really long for unity in the Spirit, if we wish to reclaim our quintessence which helps people see Jesus," Klaus said, "then this is what I suggest the Lord would have us do: we need to put the best construction on everything."
"With this one short sentence," he said, "we are being given a proper response to Jesus' high priestly prayer. In these few words, you have the possibility of laying a foundation of unity."
Dr. Albert B. Collver III, the Synod's director of Church Relations — assistant to the president, was speaker for the LCMS president's prayer breakfast on Saturday.
He said that "for all the divisions among us, for our various diversities, Christ forgives us for all of our sins. And in that forgiveness, He draws us to Him, draws us to each other, and makes us one.
"Jesus is still praying for His church," Collver said. "That we may be one with Him, with His father and the truth."
Presentations titled "LCMS-ONE!" were led by Dr. Brian Friedrich, president of Concordia University Nebraska, Seward; Rev. Oscar Benavides, executive director of LINC North Texas, Dallas; Drs. Dale A. Meyer and Dean O. Wenthe, respective presidents of Concordia Seminary, St. Louis, and Concordia Theological Seminary, Fort Wayne; and Janice Wendorf, president of the Lutheran Women's Missionary League.
Other speakers, honors
Other speakers included Kim Ketola of Peachtree City, Ga., for the women's luncheon, and William B. Greiner of Kansas City, Mo., president and chief investment officer with Scout Investment Advisors.
Other honors announced over the three-day conference were:
Million Dollar Congregation Awards to 16 LCMS congregations that reached the $1 million level of members investing in LCEF.
District Awards to the LCMS Atlantic, Northern Illinois and Indiana Districts for "outstanding efforts."
The Fred E. Lietz Individual Ministry Award for "exceptional, untiring efforts in the work of Church Extension," to Dr. Maynard Campbell of Federal Way, Wash.
The Arthur C. Haake Leadership Award for work within LCEF and exemplifying the "spirit and heart" of the ministry, to Jerry Wendt, St. Louis.
The Antioch Reflection Award to Immanuel Lutheran Church, Loveland, Colo., for excellence in stewardship during a capital campaign conducted in partnership with Capital Funding Services.
During Sunday's LCEF annual meeting, Rev. Jotham Johann Jhang of Centerville, Va., and Dennis Becker of Fort Wayne, Ind., were re-elected as at-large members of the LCEF Board of Directors.
Posted Dec. 15, 2010