The U.S. Department of Veterans Affairs in April approved the use of the trademarked logo cross of The Lutheran Church–Missouri Synod on government headstones and markers at graves of U.S. veterans.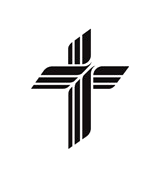 The LCMS cross is no. 38 on the list of "Available Emblems of Belief for Placement on Government Headstones and Markers" (www.cem.va.gov/hm/hmemb.asp). It joins no. 6, the "Lutheran cross," which features a version of "Martin Luther's seal" with a cross enclosed in a heart.
No graphics are permitted on government-furnished headstones or markers other than the 41 approved "emblems of belief," the Civil War Union Shield, the Civil War Confederate Southern Cross of Honor, and the Medal of Honor insignias.
"There's always been a wide selection of crosses that you could use, but having an option that specifically denotes the LCMS is especially significant," said Chaplain Mark Schreiber, director of the Synod's Ministry to the Armed Forces. "We rejoice with LCMS veterans and their families that this option to give testimony to their faith for generations to come is now available."
To request the LCMS logo on new tombstones or markers — or those already in place — go to www.cem.va.gov, click on "Headstones and Markers," then download and complete VA Form 40-1330, "Application for Standard Government Headstone or Marker."
Posted May 27, 2010