By Paula Schlueter Ross
A member of Immanuel Lutheran Church in Parkers Prairie, Minn., was killed in a storm that spawned some three dozen tornadoes across Minnesota June 17, killing three people, injuring dozens, and destroying hundreds of homes and busin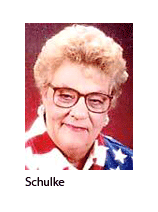 esses.
Margie Schulke, 78, was killed and her husband, Norman, was seriously injured when a tornado struck their mobile home in Almora, Minn., some five miles from Parkers Prairie. Norman Schulke — who was thrown from his home into a ditch — remains hospitalized with broken shoulders, collarbones and ribs, according to Immanuel Pastor Rev. Kirk Lee, but is expected to recover.
Margie Schulke was the "matriarch of the family," mother of seven and a grandmother and great-grandmother, Lee told Reporter. She had great love for her family and "a special love" for the Minnesota North District's Lutheran Island Camp.
"She would take her granddaughter there every summer for a week and stay and volunteer for the week, and she said it was always her best week of the year," the pastor said.
Lee, who officiated at her funeral on June 20 at Immanuel, said Margie's two favorite holidays of the year — and services of the year — were Good Friday and Easter.
Also killed was Wes Michaels, a member of Maple Lake Lutheran Church, Fertile, Minn. — a congregation of the Evangelical Lutheran Church in America. According to the ELCA News Service, Michaels was killed June 17 — his 58th birthday — "while shielding his daughter from the storm as it struck near the family's convenience store and gasoline station in Mentor, Minn."
The third storm victim was Kathy Woodside, 66, of Albert Lea, Minn., who was tossed by the twisters some 200 feet from her home into a field.
Most of the storm damage was in Wadena, Minn., a town of about 4,300 residents some 70 miles southeast of Fargo, N.D., but there were no fatalities. More than 200 homes in Wadena are considered uninhabitable because of stor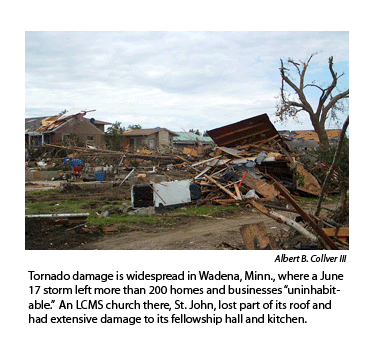 m damage, and an LCMS church there, St. John, lost part of its roof and had extensive damage to its fellowship hall and kitchen.
St. John Pastor Rev. Steve Meltzer, who graduated from Concordia Theological Seminary, Fort Wayne, this spring and served his vicarage at the congregation, told Reporter that more than half of St. John's 500-plus members have storm damage to their homes, and "very few people have not been affected at least by downed trees or debris and cleanup."
Meltzer said the congregation "felt it was really important to have a worship service right away, so we did on Sunday [June 20, three days after the storm] — even though we had the dubious distinction of being the only church in town to offer open-air seating," he joked, referring to the building's missing roof.
Some 175 people attended the service, which was "wonderful," the pastor said. "People need a place … to come together and remember what the really important things are."
Besides St. John, Wadena, and Immanuel, Parkers Prairie, three other LCMS congregations — Immanuel, Bartlett, Minn.; St. Paul, Henning, Minn.; and Zion, North Effington, Minn. — reported that members had damages to their homes or businesses.
The family of former LCMS pastor Rev. Gary Rokenbrodt rode out the storm at their home in Wadena. Rokenbrodt is a pastor with the American Association of Lutheran Churches. His wife, Deb, and three of the couple's five children were in the basement when a tornado ripped apart their house. A picnic table from the deck landed on the chair where the pastor's wife had been sitting before she headed to the basement just moments before the storm hit.
"If I hadn't moved at that minute I would have been dead," Deb Rokenbrodt told the Brainerd Dispatch.
Even with her belongings scattered across the neighborhood — amazingly, afghans her mother-in-law had made for her children when they were born were found, still folded, in a cemetery down the street — Rokenbrodt told the newspaper that the important thing is that the family survived.
"We are all alive," she said. "That is the only thing that mattered."
Dr. Donald Fondow calls the disaster the worst he's seen in his seven-plus years as LCMS Minnesota North District president. Touring Wadena and surrounding areas June 21 with staff from LCMS World Relief and Human Care (WR-HC), Fondow said the destruction was "much worse than I ever anticipated."
At this writing, almost a week after the storm, the sound of chainsaws rings out in neighborhoods marred by tarp-covered roofs and boarded-up windows. Piles of ruined belongings and debris sit at curbs.
Residents are still amazed that no one died in Wadena, the town that suffered the most damage. Said one: "Instead of cleaning up today, we might have been going to funerals."
"Everybody is helping each other," Meltzer said. "Neighbors are coming together and the community is coming together."
Fondow said he is "very appreciative of people who have been calling and sending e-mails, and for their prayers and their support from around the country, which has been a great encouragement."
Volunteers already are serving in Wadena, Fondow added, and he encouraged those who would like to help to call coordinators there at 218-631-7764.
Donations that will be used to help those affected by the tornadoes may be sent to LCMS World Relief and Human Care, P.O. Box 66861, St. Louis, MO 63166-6861. Make checks payable to WR-HC and write "Minnesota Tornado Relief Fund" on the memo line. Contributions also may be made online (click here) or via telephone by calling toll-free 888-930-4438.
Posted June 23, 2010