"The Joy of Christmas," a new set of Mustard Seed devotions that focus on the Advent, Christmas and Epiphany seasons, is now available free via e-mail subscription from the Lutheran Women's Missionary League.
The new Mustard Seed collection, which debuted Dec. 6, includes 32 devotions written by Patricia Mitchell.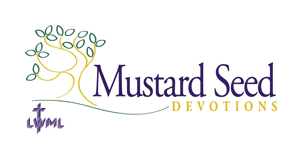 "During the busy weeks of Advent, it is a joy to begin each day with these new devotions that arrive daily via e-mail," said LWML President Janice Wendorf. "As Lutheran Women in Mission who are in the Word, of the Word and walking with the Lord, we hope this new resource will be a blessing to all."
"The Joy of Christmas" Mustard Seed devotions will be available in print form at the LWML's next biennial convention, June 23-26, 2011, in Peoria, Ill.
To request a free e-mail subscription, visit www.lwml.org, select "Mustard Seed devotions" on the "Favorites" box, and follow the instructions.
Posted Dec. 8, 2010