By Kim Plummer Krull
When a 60-foot shipping container filled with much needed medical equipment arrived at the Malagasy Lutheran Hospital in Madagascar, "it was just like Christmas," says Rev. Jeffrey Kuddes.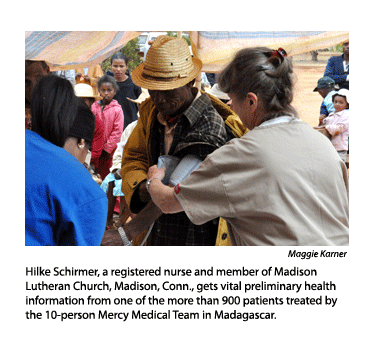 "Maybe some people would look at some of the equipment and think it looked old and used, but for the Malagasy people, it was a gift," said Kuddes, an LCMS pastor from Minnesota and member of the Mercy Medical Team (MMT) that served this fall on the African island. "To see the delight on their faces and have the opportunity to help unload the equipment and help them immediately put it to use was wonderful."
That the MMT was working at the Lutheran Hospital in Antsirabe when the medical supplies arrived on Oct. 10 was "a God thing and a good thing," said Maggie Karner, director of Life and Health Ministries with LCMS World Relief and Human Care (WR-HC). "Our nurses were able to help [the Malagasy hospital staff] understand what each piece of equipment was and how to use it," Karner said of the supplies in the shipment coordinated by WR-HC and Orphan Grain Train.
The container included surgical sutures, medical tools in such short supply at the hospital that doctors were limiting operations to only the most critical. All the medical equipment was donated.
This was the third MMT coordinated by WR-HC to work in partnership with the Malagasy Lutheran Hospital. Unlike the local government-run facility that treats only paying patients, "the Lutheran Hospital accepts everyone and tends to see people who are in really dire straits," Karner said.
One such patient was a woman who gave birth to a baby with severe encephalitis and a cleft palate. With the mother's permission, Kuddes baptized the newborn before the baby died. MMT members rejoiced when a boy suffering w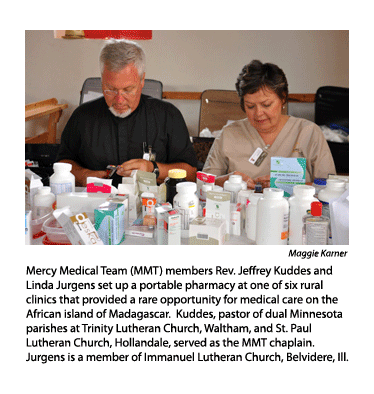 ith malaria regained consciousness after several days in the hospital's pediatric wing made possible by WR-HC donors. "By the grace of God and the care of the hospital, he regained consciousness," said Kuddes, who served as the MMT chaplain and is pastor at Trinity Lutheran Church, Waltham, and St. Paul Lutheran Church, Hollandale, both in Minnesota.
MMT members also set up clinics in six remote villages where medical care is especially rare. Karner said that some Malagasy people walked for hours and even days to the clinics, which were held in collaboration with local Malagasy Lutheran congregations.
The MMT treated more than 900 patients and filled three times that number of prescriptions. At one clinic, the 10-person team was unable to see everyone in the "throngs of waiting people," Karner said. "It was heartbreaking to pull up and see the masses of people waiting. But Dr. Harison (the Lutheran hospital medical director who, according to the Malagasy custom, is known by his last name) plans to go back with a team of physicians and nurses and see the people we couldn't see that day."
Along with providing medical care, an MMT goal is "to build the capacity of Lutheran partners on the ground," Karner said. "We don't waltz into an area, set up shop for a few days and then leave. Our strategy is to always work alongside local physicians and nurses so that we are leaving some important things behind. Our goal is always to strengthen the ability of the local Lutherans and their medical community to continue to provide this care on their own over the long term."
Plans are in the works for return treks to Madagascar next year, in March and October. Among the MMT volunteers needed are a biomedical engineer to assist the Lutheran hospital with the electrical conversion of donated medical equipment. Also needed are an ophthalmologist or optometrist, a dentist and pharmacist.
Gifts to help cover shipping charges also are needed. Sending the container of donated medical supplies to Madagascar, for example, cost $15,000. WR-HC is always on the lookout for donated medical supplies, but Karner asks that potential donors call the ministry before sending any supplies.
To learn more about MMTs, visit www.lcms.org/mercyteams or contact WR-HC's Jacob Fiene at jacob.fiene@lcms.org or 800-248-1930, ext. 1278.
To help strengthen the MMT ministry, mail checks (with "Mercy Medical Teams" noted in the check memo line) to LCMS World Relief and Human Care, P.O. Box 66861, St. Louis, MO 63166-6861; call 888-930-4438; or click here to give online.
Kim Plummer Krull is a freelance writer and member of St. Paul's Lutheran Church, Des Peres, Mo.
Posted Nov. 9, 2010