By Sarah Schafer
LCMS Life Ministries, a ministry of LCMS World Relief and Human Care (WR-HC), is partnering with the Evangelical Lutheran Church in Malaysia (ELCM), to offer care and counseling to women who be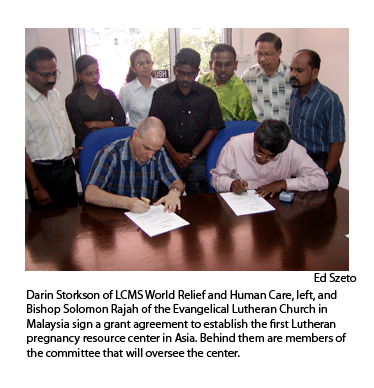 lieve abortion or "baby dumping" are their only options.
WR-HC awarded a $24,000 one-year startup grant in April to the ELCM to establish a Lutheran pregnancy resource center in Asia. The Women's Care and Counseling Centre will provide positive life choices and real hope for women by offering health care and referrals, housing and material goods assistance, adoption services, support groups, mentors and peer counseling, parenting classes, and the love and forgiveness of the Gospel.

"The ELCM's outstanding management capacity and strong commitment to diakonia — and to this project specifically — made them an ideal choice," said Darin Storkson, Asia regional director with WR-HC.
The grant will cover staff salaries, materials, and utilities, and was made possible by donations from a 2008 Jazz4Life concert in Fort Wayne, Ind., individual gifts, and a $10,000 challenge grant from Diakonic Foundation of Mesquite, Nev.
"We chose to work with the ELCM for a number of reasons," said Maggie Karner, director of Life and Health Ministries with WR-HC. "One reason was the great need they clearly displayed in their grant proposal."
Abortion is illegal in Malaysia, but Storkson says it is readily available in most Asian countries, whether legally or illegally. According to the World Health Organization (WHO), Asia accounts for 59 percent of the world's abortions, compared with three percent in North America.
The center will be housed in the same building as Good Hope Lutheran Church in Port Klang, Malaysia, near Kuala Lumpur. Congregation members also saw a growing trend of baby dumping in their community, and wanted to do something about it. They will play a large role, referring women to the center and providing counseling services. This summer, LCMS WR-HC staff will provide initial training for all ELCM members involved with the center.
Baby dumping is when a child is abandoned by the mother or another person — perhaps left in trash bins, along rivers, or in other places where they might be found. Members of Good Hope said they want to do something about this practice that often results in the child's death.
"We hope that this first Lutheran pregnancy resource center in Asia can become a model for other partners to start other centers in other areas," said Storkson. The Asia center was inspired by the success of WR-HC-supported pregnancy resource centers in St. Petersburg and Novosibirsk, Russia, while keeping cultural differences in mind.
The Pregnancy Resource Center of Salt Lake City has "adopted" the center in Asia. "They have provided wonderful support already," said Karner, who encourages interested LCMS members to support the fledgling center with their financial gifts.
To make a donation for the Women's Care and Counseling Centre, write a check payable to "LCMS World Relief and Human Care," designating "Asia pregnancy center" on the "memo" line, and mail it to LCMS World Relief and Human Care, P.O. Box 66861, St. Louis, MO 63166-6861; call toll-free at 888-930-4438; or visit http://givenowlcms.org.
For more information about LCMS Life Ministries, visit www.lcms.org/life.
Sarah Schafer serves as communications project manager for LCMS World Relief and Human Care.
Posted May 12, 2010