Luvenia Marie Kienker, executive director of The Lutheran Church–Missouri Synod's Lutheran Housing Support Corporation, died Oct. 8 at the Siteman Cancer Center in St. Louis after a 10-year battle with the disease. She was 51.
A memorial service was held Oct. 11 at St. Paul's Lutheran Church in Des Peres, Mo., a St. Louis suburb. LCMS President Rev. Matthew C. Harrison preached at the service.
In 2006, Mrs. Kienker was named the first executive director of Lutheran Housing Support, one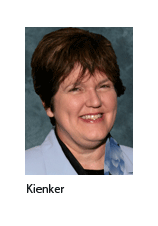 of only a few faith-based housing organizations in the United States. Established by LCMS World Relief and Human Care, the corporation works to provide affordable home ownership for low- to moderate-income families and revitalize blighted neighborhoods.
Its projects include the Nehemiah housing development in Brooklyn, N.Y., which transformed a run-down urban community, and the Campaign for College Hill, St. Louis, which is renovating older homes and building new ones.
In the College Hill neighborhood, Mrs. Kienker and her congregation, St. Paul's Lutheran Church, Des Peres, also helped hundreds of low-income families by providing annual Thanksgiving and Christmas meals and school book bags, and by helping them start community gardens.
As a result, some College Hill residents told her, "You have given us hope. You have come to walk with us," she recalled earlier this year.
Rev. John Fale, associate executive director of LCMS World Relief and Human Care, will work with Lutheran Housing Support board members and staff to continue projects developed under Mrs. Kienker's leadership while a search for her successor is conducted.
Mrs. Kienker brought a long history of service to others to her position. Before joining Lutheran Housing Support, she served LCMS World Relief and Human Care as housing ministry manager (2000-02), director of operations (2002-03) and associate director (2003-06).
Prior to her LCMS service, she was deputy director of the Fort Wayne (Ind.) Housing Authority (1998-2000) and chief of the Carroll County (Md.) Bureau of Housing and Community Development (1987-97).
As the daughter of an inner-city deacon, Mrs. Kienker lived and worked in one of the poorest areas in south Baltimore. She witnessed and took part in the renewal of Baltimore's Inner Harbor area in the 1980s, and grew up working with her father as he renovated homes for low-income families. Her childhood of "sitting on paint cans" led her into a career of helping others through housing initiatives, she once said.
Co-worker Deborah Rutt, vice president for advancement with Lutheran Housing Support, said she was most impressed by Mrs. Kienker's "strong commitment to the Lord and her trust that He loved her and was always caring for her, no matter what happened.
"He gave her a tremendous faith and she was a great witness — always — to the fact that no matter what was happening, God loved her and He was in control of her life," Rutt said.
Survivors include her husband, Rev. Paul D. Kienker, vice president for development of The LCMS Joint Seminary Fund; two sons — James Kienker of Indianapolis and Paul Josh Kienker of Eureka, Mo.; two brothers — Howard Bryant of Kissimmee, Fla., and David (Darlene) Bryant of Columbia, Md.; mother-in-law Norma Kienker of Catonsville, Md.; and three sisters-in-law — Jane (Douglas) Munro of Glen Burnie, Md.; Patricia Kienker of Woodstock, Md.; and Susan (Robert) Schaeffer of Baltimore.
Memorials may be made to Lutheran Housing Support.
Posted Oct. 9, 2010