By Paula Schlueter Ross
Missionary Erin Mackenzie says she was "very excited" to hear that a photo she took — of an American teenager hugging a young Mexican boy — received the most votes in the Facebook-based LCMS World Mission Month Photo Contest.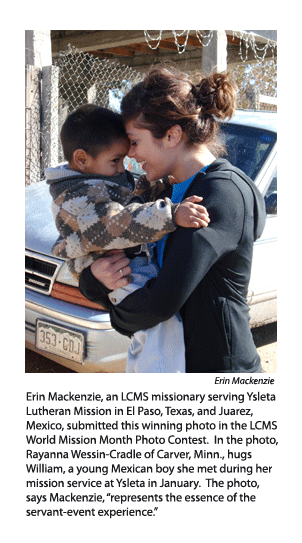 But Mackenzie — an LCMS missionary for almost two years — isn't taking all the credit. She says she "won on behalf of Ysleta Lutheran Mission" (YLM) in El Paso, Texas, and Juarez, Mexico.
Mackenzie serves YLM as servant-event coordinator, and it was in that role that she took the photo, so she is talking with her co-workers there "about how we, as an organization, can maximize our prize winnings."
Prizes are a Skype® (computer video "chat") session with an LCMS missionary and a packet of supplies to host a "mission fair" at an LCMS congregation of her choice.
Mackenzie hasn't yet decided with whom she'll Skype®, but she's considering for the mission fair a congregation "that's centrally located in relation to lots of other churches where we have connections — to raise awareness and enthusiasm about the mission and encourage more congregation members to participate in servant events."
At YLM, Mackenzie manages transportation, lodging, meals and other details for short-term mission groups from Lutheran congregations in the U.S. and Canada. She says she loves her job, which she describes as "an extended mission trip," and enjoys "meeting so many mission-minded people from all over the country."
She took the prize-winning photo last December in Juarez, and says she likes it because "both subjects are smiling with their eyes." Both the U.S. mission worker and Mexican child are "genuinely happy, and you can tell by looking at their eyes," she told Reporter.
"It represents the essence of the servant event experience — why people (me included) go to a dump [the photo w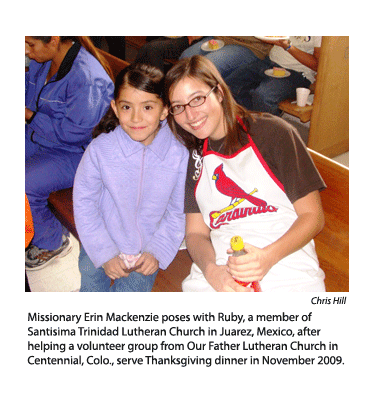 as taken near a mission church at a former dump] and then want to keep going back — because of the bonds formed between people [who] are sometimes about as different … as two people can be, but united by a shared love for Jesus."
The photo contest was conducted on LCMS World Mission's Facebook page to promote "Mission Month" in October. Voting took place Oct. 1-15 — visitors to the site voted by clicking the "like" button below their favorite of 21 submitted photos. To see all the photos, click here.
Mackenzie's photo will be featured on the cover of the winter edition of Harvest News, a quarterly publication of LCMS World Mission that is expected to be mailed in early December. Harvest News also may be viewed online (click here).
For more information about short-term service at Ysleta Lutheran Mission, contact Mackenzie at 915-858-2588 or service@ylm.org.
Mackenzie says workers for weeklong servant events are "a constant need," and Ysleta welcomes groups of all kinds (youth, adults, families) year-round. Projects include doing construction; serving in medical, dental and eyeglass clinics; and leading vacation Bible school and other activities for youth and adults.
Posted Nov. 4, 2010