Under the theme "Bringing Good News to Life," Lutherans For Life (LFL) will hold its 2010 national conference July 23-24 at the Tundra Lodge Resort in Green Bay, Wis.
Registration is open now, by mail or online at its Web site, www.lutheransforlife.org, where other details about the upcoming conference are posted. The e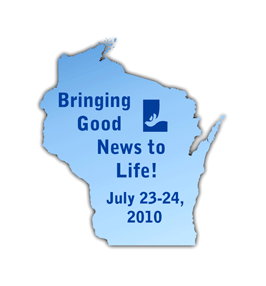 vent is open to all.
Kay Meyer, LFL's director of development, will give a pre-conference presentation July 23 at 2:30 p.m. on how LFL volunteers can raise financial support for their state federations, local LFL chapters, the national LFL, and other non-profit organizations.
A "Young People's Brainstorming" session — to explore how LFL can best serve today's young generation — will follow.
The conference will open with a 5 p.m. worship service, followed by a banquet. Keynote speaker at the banquet will be bioethicist Wesley J. Smith, author of 11 books, including Culture of Death: The Assault on Medical Ethics in America (2001).
Plenary speakers at the conference are Smith; Dr. Jeffrey Gibbs, professor of exegetical theology at Concordia Seminary, St. Louis; and Alan Shleman, a speaker with "Stand to Reason," a Los Angeles-based Christian ministry that features a radio talk show.
Workshop topics focus on the conference theme and include "Biblical Manhood," "Biblical Womanhood," "The Defense of Marriage," "Making Abortion Unthinkable," and "Defending Adult Stem Cell Research."
"Camp Tundra" at the Tundra Lodge Resort will offer activities for children ages 6 to 12 that include storytelling, movies, cookie decorating, and an LFL education program.
Attendees are encouraged to bring layette items — blankets, diapers, "onesies," new infant clothing, and toys — for distribution to a local organization.
To raise funding for the national conference, participants may sponsor a "witness" message in the conference book: 1/4 page for $60; 1/2 page for $100; full-page for $175; and a two-page spread for $300. More information is available on the LFL Web site.
Individual registration for the entire conference is $100 ($85 for students), with registrations also available for partial attendance.
A rate of $69 per room per day is available for conference attendees who make reservations by July 9 with the Tundra Lodge Resort (877-886-3725).
Posted May 12, 2010