Lutheran schools and their sponsoring congregations may order a variety of resources from LCMS District and Congregational Services — School Ministry and Concordia Publishing House to promote "National Lutheran Schools Week," set for March 7-13.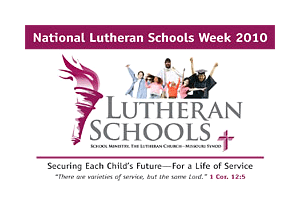 This year's theme, "Securing Each Child's Future — for a Life of Service," is based on 1 Cor. 12:5: "and there are varieties of service, but the same Lord."
"National Lutheran Schools Week is a chance for Lutheran schools to celebrate their special heritage and an opportunity to promote themselves to their communities," Bill Cochran, director of LCMS School Ministry, told Reporter.
The ministry is offering a 71-page Worship and Resource Manual, available in downloadable PDF format, that includes an original song for this year's National Lutheran Schools Week ("To All of God's Children," by Dr. Jeffrey Burkart), worship resources, chapel services, devotionals, and suggested activities for all educational levels.
Cost of the manual is $20 and it may be ordered online, with a credit card, or with a mail-in form, along with a check, from the DCS Store at www.lcms.org/?1774.
Other Schools Week items — including teacher appreciation items, stickers, bookmarks, and posters — may be ordered from Concordia Publishing House's Web site at www.cph.org (click on the "Christian Education" link) or by calling 800-325-3040.
For more information, call Kathy Fangmann in the LCMS School Ministry office at 800-248-1930, ext. 1285.
Posted Jan. 13, 2010