The 30th Annual Fall Festival at the historic Saxon Lutheran Memorial in Frohna, Mo., is set for Oct. 9, from 9 a.m. to 4 p.m. Frohna is located in Perry County,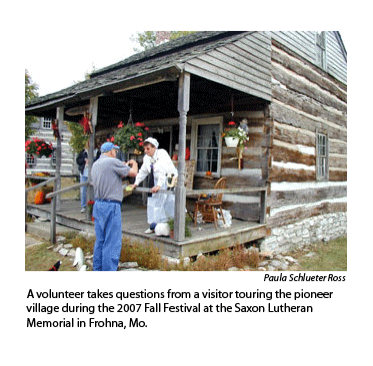 Mo., a little more than an hour's drive south of the St. Louis area.
The memorial, owned and operated by the Concordia Historical Institute — the Synod's Department of Archives and History — is an outdoor history museum and log cabin village that commemorates the 1839 arrival of more than 600 Saxon immigrants who left Germany for religious freedom in the United States.
The festival will offer food, entertainment, more than 50 craft booths with handmade items, and some 35 demonstrations of pioneer skills such as blacksmithing, butter-churning, quilting, spinning, cross-cut sawing, and broom- and rope-making.
Visitors also may tour a 15-building pioneer village that includes the original log cabin of Saxon brothers Wilhelm and Christian Adolf Bergt, a museum, and a newly renovated gift shop with locally-made products as well as T-shirts, mugs, pens, postcards and ornaments.
For more information, visit the memorial's website at www.saxonlutheranmemorial.com. Or contact Curator Lynda Lorenz at slmlynda@att.net or 573-824-5404.
Posted Oct. 6, 2010