Both of the Missouri Synod's seminaries will hold visitation events for high school students this summer.
Concordia Seminary, St. Louis, will host its 12th annual Vocatio June 19-24 on the seminary campus. The event is designed to identify, inform, and en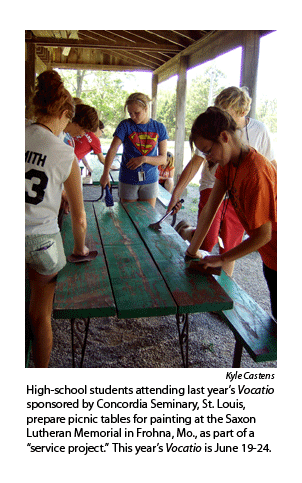 courage youth with respect to church-work vocations.
Activities during Vocatio will focus on the Bible verse, "For we are his workmanship, created in Christ Jesus for good works, which God prepared beforehand, that we should walk in them" (Eph. 2:10). Participants will explore this theme through the four disciplines of the formation of ministry: exegetical, systematic, historical, and practical. Seminary professors will lead Bible studies and discussions about vocation throughout the week.
Students also will have the opportunity to participate in a "servant event" during the weeklong event. Past events have included work at St. Louis-area congregations and the Saxon Lutheran Memorial in Frohna, Mo.
A $50 registration fee to attend Vocatio is the only charge for youth, in addition to travel costs. All activities, meals during the event, and on-campus lodging are provided at no cost. Scholarships are available to ensure that travel costs do not prevent youth from attending. Registration is limited to high school youth entering ninth-through-12th grades.
The event is funded by a grant from Lily Endowment Inc.
For more information, or to request a registration form, contact the seminary's Admissions Office at admissions@csl.edu or 800-822-9545.
Concordia Theological Seminary, Fort Wayne, Ind., will hold its two-week "Christ Academy — High School" June 20-July 3 on its campus for high school-age men.
With the theme of "Evangelical Responses to Non-Christian Religions," the program will feature a day trip to Chicago, where participants will visit the Baha'i Temple, a mosque, and a Jewish synagogue. Students will explore how to present and defend the faith "with gentleness and respect" (1 Peter 3:15).
The program includes daily prayer and worship services, athletic activities, and classes on exegetical, systematic, historical, and practical theology. Participants also may take part in choir performances.
Registration is $500, which covers tuition, meals, lodging, and activity fees. Additional costs include books, some snacks, and optional activities.
"The growing eagerness of the youth of the church to learn Lutheran theology is given a wonderful complement in the Christ Academy experience," commented Brian German, student director of Christ Academy — High School. He noted that participants have come from across the United States, Sweden, Russia, Ghana, Indonesia, and Australia.
For more information, contact German at 260-452-3140 or brian.german@ctsfw.edu. Or, visit www.ctsfw.edu/christacademy on the Web.
Posted May 12, 2010