Robert "Bob" Uthoff of St. Louis joined the Lutheran Church Extension Fund staff Aug. 23 as vice-president of its new Loan Resolution Group — a component of the LCEF Loan Department.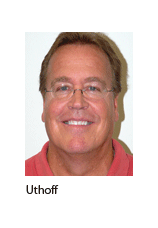 According to an Aug. 25 LCEF news release, the new group "will work with LCEF district vice-presidents, congregations, rostered church workers, and [Synod] Recognized Service Organizations that have loans with the LCEF that are impaired or in need of assistance to ensure their loan does not become delinquent. The financial assistance this group will provide is meant to be a lasting relationship that helps ministries become and stay fiscally sound."
A 1978 graduate of Southeast Missouri State University in Cape Girardeau, Mo., Uthoff has 30 years of experience in the banking industry — most recently as senior vice-president of commercial loans with Champion Bank in St. Louis.
"I am excited to have the opportunity to utilize my financial and banking talents in a ministry environment," Uthoff said. "This organization [LCEF] operates in a bank-like environment, but not … entirely. The approach is different, with LCEF's ultimate goal to support ministries so that they may focus on spreading the Gospel of Jesus Christ."
LCEF President Rich Robertson said, "Bob will be a significant asset to our organization, not only because of his years of experience in banking and lending, but because of his commitment to his church, The Lutheran Church–Missouri Synod and our community. It is a true blessing to have someone of Bob's caliber, integrity and character joining the LCEF team."
Uthoff and his wife, Pat, are members of Peace Lutheran Church in south St. Louis County.
Posted Sept. 22, 2010