The offering for this year's National LCMS Youth Gathering in New Orleans will support community renewal and reconstruction projects in that city's area and a new grant program to help youth groups reach unchurched youth. The Gathering will take place July 17-21.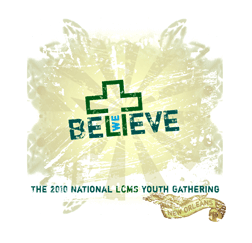 The Gathering's executive team has decided that the first $50,000 from the offering will be designated for New Orleans community support and renewal and the next $50,000 will be used for LCMS congregations' youth groups outreach to youth. Any other remaining funds from the offering will be designated as follows:
20 percent, or up to $15,000, for a local mission project in the LCMS Southern District;
40 percent, or up to $45,000, for youth ministry leadership training opportunities for youth, lay volunteers, and professional church workers;
20 percent, or up to $15,000, to support the Youth Ministry Eutychus Project to reach unchurched youth in the spirit of the LCMS Ablaze! initiative; and
20 percent, or up to $15,000, for LCMS Young Adult Ministry's work among youth above high-school age and young adults, including support for the LCMS Young Adult Web site and LEAD Servant Events for young adults.
Any funds remaining after those designated will be added to the congregational youth groups outreach grant program.
"We are truly excited about these projects, especially the focus to reach unchurched young people," Dr. Terry Dittmer, director of LCMS Youth Ministry, told Reporter.
Noting that many teenagers and young adults in society "have no idea about who Jesus is" and that the grant project will support local and congregational efforts, Dittmer added that the project will "help youth reach their peers and share the Gospel message of what we believe."
Dittmer indicated that the initial process for securing a grant for the youth-outreach program should be posted by June 1 at the Gathering Web site, www.lcmsgathering.com. He said that all LCMS church youth groups are encouraged to apply, and that an "emphasis" for grant projects selected will be "how teenagers themselves are involved in the leadership and design process" of their congregation's youth-outreach project.
"We Believe" is the theme for the 2010 LCMS National Youth Gathering — the 10th one sponsored for LCMS congregations' young people since 1980.
Dittmer said that youth groups attending the Gathering "are encouraged to consider how they will support the Gathering offering," and that many of them commit a tithe for the offering from funds they raise to make it possible for their youth to attend the Gathering, or from other local funding projects.
"The Gathering offering is one way to say thanks to God for the blessings He has provided in a group's Gathering preparation and for the spiritual experience the Gathering is for participants," Dittmer said.
Youth groups participating in the Gathering may bring their offerings for collection during the July 20 worship service in the New Orleans Superdome or send them via an online giving option to be available through the LCMS Foundation on the Gathering Web site, where offerings may also be given by individuals and congregations that will not have a youth group in New Orleans. Checks brought to the Gathering for the offering should be made payable to "LCMS Youth Gathering."
Registration continues for the 2010 Youth Gathering. For registration details and other information about the Gathering, visit the Gathering Web site.
Posted April 14, 2010