Artist and retired university Professor Reinhold Marxhausen, known for his unusual "sound sculptures" and his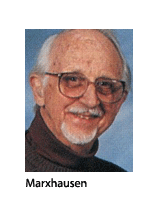 two mosaic murals that are on display in the Nebraska Capitol, died April 23 in Seward, Neb. Prof. Marxhausen, 89, had suffered from Alzheimer's disease.
A funeral service was held April 30 at St. John Lutheran Church in Seward.
Prof. Marxhausen, a World War II veteran, taught art at Concordia College, now University, in Seward, from 1951 until his retirement in 1990.
He had studied art at Ray-Vogue School in Chicago and the Chicago Art Institute, and graduated from Valparaiso University, Valparaiso, Ind., with a degree in biology. He also held a Master of Fine Arts degree from Mills College in Oakland, Calif.
According to an April 25 story in the Lincoln Journal Star, Prof. Marxhausen "got his widest exposure when he appeared on "Late Night with David Letterman" in 1986, demonstrating his Star Dust moon rocks — palm-sized stainless steel objects made to look like rocks, but with wires inside that created a symphony of sound.
"His work was included in nearly every national exhibition of sound-related art in the 1980s," according to the newspaper.
Prof. Marxhausen considered the two mosaic murals he created in the mid-1960s for the Nebraska Capitol "his proudest accomplishment," according to the Lincoln Journal Star, and also has produced murals for Lincoln Southeast High School, a Seward bank and at Lutheran churches throughout Nebraska. One of his sculptures, titled "Sin and Grace," is displayed at the Synod's International Center in St. Louis.
Prof. Marxhausen once said of his work: "I had to be innovative in order to get people to notice. You have to be nontraditional."
His wife, Dorris, of Seward, told the Lincoln Journal Star that her husband "was happiest when he was exploring a new medium."
His son, Paul, said his dad couldn't be classified simply as a photographer, sculptor or muralist, although he created works in all three mediums. "He was an artist," Paul Marxhausen said. "I think, more than anything else, it was teaching others to see the art in the world."
Prof. Marxhausen is survived by his wife and two sons — Paul (Kim) Marxhausen of Lincoln, Neb., and Karl (Jan) Marxhausen of Carrollton, Mo.
Memorials may be made to Concordia University, Seward.
To read the Lincoln Journal Star obituary of Prof. Marxhausen, click here.
Posted April 26, 2011