By Kim Plummer Krull
April brought more than showers in a month filled with weather-related death and destruction that affected congregations throughout the Synod, including a record number of twisters that damaged or destroyed LCMS member homes and int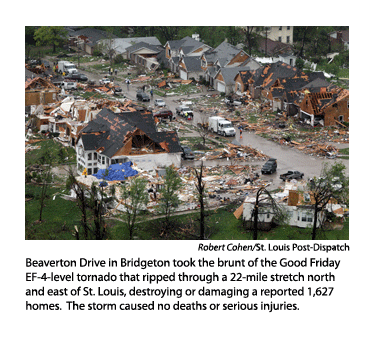 errupted services as worshippers abruptly relocated to church basements.
While LCMS members are among those hit hard by severe weather, they also are "directly engaged in reaching out to their communities," said Rev. Glenn F. Merritt, director of Disaster Response with LCMS World Relief and Human Care (WR-HC), on a morning when he advised yet another pastor about applying for a WR-HC disaster grant for his congregation to help families in need.
As press time neared (on April 27), Merritt and WR-HC's Rev. Carlos Hernandez continued to check on and assist congregations and communities during what Merritt calls "this disaster-prone month."
Here's a sampling of reports from WR-HC that tell of widespread devastation as well as "amazing" blessings.
Good Friday storm
After blaring tornado-warning sirens forced Zion Lutheran Church to quickly relocate Good Friday worship on April 22 to the basement, members of the Maryland Heights, Mo., congregation spent Easter Monday, April 25, filling up that same fellowship hall with emergency supplies for a community distribution center.
"We voted on Easter morning and organized a drive for clothing, food, cleaning supplies and anything that can help people affected by the storms," said Rev. Mark Femmel, Zion Lutheran pastor.
The tornado destroyed the home of one Zion Lutheran family and caused property damage for about a fourth of the 200-member congregation, Femmel said. That's just one sampling from a 22-mile-long path of destruction that ripped through suburban St. Louis and into Southern Illinois April 22.
The tornado damaged some 1,627 St. Louis-area homes, according to St. Louis County Emergency Operations, and caused extensive damage at the city's airport. The storm peaked at an EF-4 level, delivering winds up to 200 miles per hour, according to the National Weather Service, making it the most powerful twister in metropolitan St. Louis in 44 years.
On Easter Monday, Hernandez, director of Districts and Congregations with WR-HC, spoke with Rev. Keith Ellerbrock, pastor of Trinity Lutheran Church, Bridgeton, Mo., where the parents of two member families lost homes. Merritt advised Femmel about Zion Lutheran's plan to distribute relief supplies and encouraged the pastor to apply for a WR-HC disaster grant for financial help to assist members and neighbors with emergency needs.
In spite of widespread destruction, officials reported no tornado-related fatalities from the Good Friday storms. Zion Lutheran members were at services when the storm hit. "Many said, who knows where they would have been or what would have happened to them if they hadn't been safe in God's house that night," said Femmel, who visited devastated neighborhoods, talking with members and their neighbors. "That's an awesome thing to hear."
Mississippi 'work day'
Instead of a scheduled work day at Our Redeemer Lutheran Church in Clinton, Miss., members quickly shifted gears on April 16, and helped families with homes damaged by a powerful tornado, one of a string of more than 240 such reported storms that killed at least 45 people over the previous three-day period.
"We were supposed to be working at the church, but after what happened, we decided to move [the work day] over there," said Cindy Namanny, Our Redeemer's director of Christian education, referring to the damaged home of a member family, including a grandmother, her daughter and granddaughter.
An April 15 tornado destroyed the roof and blew out windows at the house, forcing the trio to seek emergency shelter arranged for by the congregation. Our Redeemer volunteers also assisted with cleanup at the homes of two more member families, as well as other homes in the community, and were looking into needs at a trailer park.
"It's amazing that no one was killed," said Namanny, one of many people contacted by WR-HC after the storm outbreak that began in Oklahoma, tore through the South and hit North Carolina and Virginia. Authorities say the storms killed 21 people in North Carolina alone and also claimed lives in Arkansas, Alabama, Virginia, Oklahoma and Mississippi.
Rev. James Walter, pastor of Grace Lutheran Church, Little Rock, Ark., told Hernandez how a tree crashed into a car belonging to a member's daughter. "This happened in the same area where a mother and son were killed by a tree that fell into their house," Hernandez said.
In the Southeastern District, Dr. William Seaman told of damage "almost beyond description" when he drove through North Carolina and South Carolina.
At Resurrection Lutheran Church, Cary, N.C., Rev. Dave Schleusener said many members were "miraculously spared."
"We are still getting reports and trying to touch base with [congregation] members. Many were within yards/miles of significant damage, but so far no damage to report to our members, and no injuries or fatalities," he said in an email shared with WR-HC.
At Resurrection Lutheran Church, Newport News, Va., Rev. William H. Hollar said by email that his congregation is "working with the Red Cross and with our members to assist [in nearby] areas."
Devastation in Iowa
"We heard the sound of the tornado, and were directly in its path," Gary Thies, director of LCMS Mission Central in Mapleton, Iowa, said in an email. "The Lord's protective hand came down and stopped the tornado just a little over a mile from our facilities and our home here at Mission Central."
While Mission Central, an agency that's part of LCMS World Mission outreach, was spared, some 100 homes were destroyed by the April 9 tornado, officials said, and up to 600 residents were displaced.
LCMS Iowa District West Disaster Response Coordinator Ellie Menz worked alongside hundreds of volunteers to remove fallen trees and clean up damaged properties. "What a miracle that no one was injured during the tornado at Mapleton!" Menz said in an email.
Although St. Matthew Lutheran Church in Mapleton sustained structural damage, Menz calls the church "a beacon of hope, standing firm in the area of town that was hit the hardest." Menz and Iowa District West President Rev. Paul Sieveking met with St. Matthew leaders about reaching out to congregation and community needs.
In the works at press time was an $8,250 WR-HC disaster grant to the Iowa District West to help 11 St. Matthew member families who suffered major losses in the tornado. In addition to the funds from WR-HC, the district and St. Matthew plan to contribute financial assistance so that each family will receive $1,000 for emergency needs, according to the WR-HC grant agreement.
Florida, Tennessee damages
Damage to a Florida church campus and a Tennessee business was among the destruction reported when WR-HC checked with LCMS district presidents and pastors in areas in the South pounded by a fast-moving storm system April 5.
One building at Prince of Peace Lutheran Church in Orlando, Fla., needs a new roof after storms that killed at least eight people, according to news reports. The church campus also had water damage, according to the church's senior pastor, Rev. Phil Vance.
In Tennessee, a business operated by a member family of Ascension Lutheran Church, Madison, was badly damaged, according to Rev. Thomas Vanderbilt, church pastor. The company converts vans into transportation vehicles for people with disabilities.
"The severe winds blew out 75 windows in their place of business," said Hernandez, who provided Vanderbilt with information about applying for WR-HC grant assistance.
Wisconsin tornado
The homes of a school board member and daycare director at Trinity Lutheran School, Merrill, Wis., were badly damaged in an April 10 tornado. Five members of Trinity and St. John Lutheran Church, also in Merrill, lost their homes in the storm, which destroyed a total of 65 homes, according to city officials.
Rev. David Szeto (St. John's pastor), Rev. R. Brian Stolarczyk (Trinity's pastor), and Lee Belmas, the North Wisconsin District's disaster response coordinator, met with families whose homes were damaged.
Belmas shared a story told by an LCMS family who was worshipping at Trinity when the tornado hit. "When the sirens sounded, everyone went downstairs to the basement for safety and the completion of the service. It was a Communion service, and the Communion hymn was 'A Mighty Fortress is Our God.' Little did the family know that after the service they would go home to find their earthly home destroyed," Belmas said in an email.
The family has two young children who attend Trinity Lutheran School. St. John Lutheran Church was designated as the Red Cross housing and feeding station.
North Dakota flooding
Spring flooding is an annual battle along the Red River in North Dakota, and LCMS North Dakota District Disaster Response Coordinator Bill Sharpe says it's been an anxious two months as the Fargo community prepares for floodwaters.
"Not too many miles north of [Fargo], they have water they've never seen before," said Sharpe. "Where it gets tough is in rural areas, where there are just fewer people to help out." LCMS families in north-central North Dakota have property surrounded by water and have sought shelter with relatives.
The basement of St. John Lutheran Church in Crystal flooded when a power line, which runs the church's sump pump, went down. "The church basement didn't fill up, but it was a close run thing. It is a mess," Rev. Bernie Seter, pastor of Trinity Lutheran Church in Drayton and Zion English Lutheran Church in Grafton, said in an email. Seter also is chairman of the Synod's Board for International Mission.
Sharpe calls the flooding an "unfolding story."
Urgently needed help
Because last year's efforts depleted WR-HC's tornado relief fund, gifts are needed to assist districts and congregations in their response to this spring's storms.
To contribute to the Synod's tornado disaster response:
* Mail checks (noting "Tornado Disaster Relief" in the memo line) to LCMS World Relief and Human Care, P.O. Box 66861, St. Louis, MO 63166-6861.
* Call toll-free 888-930-4438.
For an online donation to LCMS "Tornado Disaster Relief" efforts, visit http://givenowlcms.org.
Any funds not needed for this relief effort will be used for other disaster purposes as determined by LCMS World Relief and Human Care. Gifts are tax deductible to the extent permitted by law.
To learn more about WR-HC Disaster Response, visit www.lcms.org/worldrelief. Contact Merritt at glenn.merritt@lcms.org, and Hernandez at carlos.hernandez@lcms.org.
Kim Plummer Krull is a freelance writer and member of St. Paul's Lutheran Church, Des Peres, Mo.
This story was produced by LCMS World Relief and Human Care.
Posted April 28, 2011