Dr. David P. Mulder — a parish pastor who formerly served as an LCMS district president and with the staff of the Synod and Concordia Publishing House (CPH) — died May 1 at Wi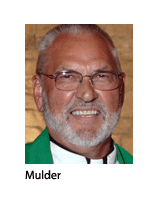 lliam Childs Hospice House in Palm Bay, Fla., after a brief, intense bout with cancer.
Dr. Mulder, who turned 66 that day, was senior pastor of Ascension Lutheran Church, Casselberry, Fla., just north of Orlando. He and his wife, Mary Jo, lived on Merritt Island, Fla.
The memorial service was held May 8 at Ascension.
After his 1978 graduation from Concordia Theological Seminary, Fort Wayne, Dr. Mulder served as pastor of two congregations in Connecticut; president of the LCMS New England District (1985-91); executive vice president of Concordia Publishing House (1991-94); and senior pastor of a St. Louis-area congregation (1994-98).
From 1998 to 2003, he was on the staff of the former LCMS Board for District and Congregational Services, and was its director of Outreach Ministry when he accepted the call to Ascension, Casselberrry, in 2003. He was an essayist at the 2001 Synod convention.
Dr. Mulder served with the U.S. Army in Vietnam, and later was a chaplain (with the rank of Major) in the U.S. Army Reserve.
He received a Doctor of Ministry degree in preaching in 2000 from Aquinas Institute of Theology in St. Louis.
He was the author of Narrative Preaching, a book published by CPH in 1996.
In addition to his wife, Mary Jo, who is a chocolatier, survivors include two daughters — Tara Mulder of Baltimore and Audra Mulder of Winter Park, Fla., a grandson — Nathanael Mulder of Winter Park, three brothers and two sisters — John Mulder of Imlay City, Mich.; Jim Mulder, Johnson City, Tenn.; Marlene Mulder, Imlay City; Pete Mulder, Imlay City; and Kay Stevenson, Owosso, Mich.
In an email message to Reporter, Tara Mulder wrote that her father "is remembered most for his quick humor, love of golf and a contagious faith in Jesus Christ, his Savior."
The family suggests that in lieu of flowers, memorial donations be made to Ascension Lutheran Church, 351 Ascension Drive, Casselberry, FL 32707; LCMS Ministry to the Armed Forces, 1333 S. Kirkwood Road, St. Louis, MO 63122-7295; or to a hospice of the donor's choice.
Posted May 2, 2011