The first of 12 Bible story books combining written language, art work and illustrated sign language to teach hearing and deaf individuals is available from Lutheran Friends of the Deaf (LFD), a ministry of The Mill Neck Family of Organizations, which is an LCMS Recognized Service Organization.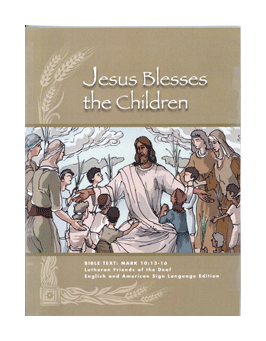 Jesus Blesses the Children is the title of the first of those books.

Initially available with English text and illustrations for the stories and to show signers using American Sign Language (ASL), the books also will eventually be available in other written and sign languages such as Chinese, Spanish and Russian.

In addition, a translation team developing the ASL translations for the stories is working on activity companion materials, including story reviews, catechetical instruction, and children's Christian songs and prayers.

Rev. S.R. Schumacher, director of Deaf Ministry for Mill Neck Foundation and leader of the Bible story translation team, said the books will be suitable for a variety of family and educational settings, "whether it's a family composed of hearing and deaf members or a Sunday school class of hearing and deaf students."

Schumacher said that through the Bible stories, LFD aims to evangelize and educate the deaf worldwide.

"We envision the books being used in classroom settings, catechetical lessons or even for the benefit of reading skills," he said, adding that they also could be used "in the education and evangelism of deaf adults who have never heard the Word of God, and/or in vacation Bible, Sunday and parochial schools.
"Our intent is to address as many situations as possible in order to bring the Good News of Jesus to them," he said.
Jesus Blesses the Children is available for $3 (plus shipping) — which also is the price planned for each of the 11 remaining books. To order the first book via check, money order or credit card, or for more information about the series, call 800-264-0662 or visit www.millneck.org.
Posted Aug. 2, 2011