As people in Japan adjust to "a new reality" after the devastating March 11 earthquake and tsunami there, what they need most is prayers from others.
Dr. Jonathan Blanke, an LCMS career missionary in Tokyo, told listeners of KFUO Radio's "Morning Essentials" program March 16 that is "the main thing" in resp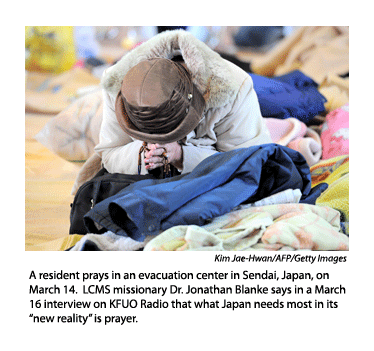 onse to the question," 'what can we do to help?' "
Blanke offered that observation during a telephone interview with "Morning Essentials" host Paul Clayton and co-host Dr. Henry Rowold, a retired LCMS missionary to East Asia and emeritus professor of Concordia Seminary, St. Louis — where KFUO studios are located.
Blanke suggested that in addition to prayers for those directly affected by the calamity, prayers for missionaries and Japanese Lutherans are needed "because a lot of these people will be on the front lines when it comes to bringing the Gospel to people in their actions and in their words as well."
In the interview, Blanke says that with the combination of the earthquake, tsunami, aftershocks and "the nuclear power scare," those in Japan are asking " 'How long, O Lord? How long is this going to go on?' "
Blanke says "a kind of cooperative spirit" exists in Japan, "nurtured over the years," although that is counterbalanced with "a kind of an anxiety and a frustration and a real sort of searching out, I think, for a sense of peace and hope when something like this happens. … I think we really see both of those in the events [of] the last few days."
"We'd like to get to the point where we can also get into some of these areas and really help people in a tangible way," Blanke says of conditions and needs along the northeast Japan coastline, where the quake and tsunami hit. When the crippled infrastructure there is improved, he said, "it will be easier for us as a church to respond to some of the needs that are there."
To hear the "Morning Essentials" interview with Blanke or download a transcript of it, go to the "Audio" section at www.lcms.org/help. Also see that page for more information and resources pertaining to the situation in Japan.
To contribute toward the Synod's response to the Japan earthquake and tsunami:
mail checks (noting "Japan Disaster Relief" in the memo line) to LCMS World Relief and Human Care, P.O. Box 66861, St. Louis, MO 63166-6861.
call toll-free 888-930-4438.
visit online at Disaster Relief Fund for Japan.
For more information and resources, visit www.lcms.org/help.
Posted March 16, 2011