In an e-mail to the LCMS, Rev. Manabu Wakabayashi, a pastor of the Japan Lutheran Church (JLC), an LCMS partner church, said many people are still searching for loved ones and li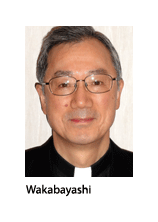 ving without basic necessities in the wake of the March 11 earthquake and tsunami.
Wakabayashi is pastor of Shirone Lutheran Christ Church in Niigata, Japan, and a 2002 graduate of Concordia Theological Seminary, Fort Wayne, Ind.
In the March 15 e-mail, the pastor said the country is "nailed to the disaster news on the television from morning to night" and survivors have become "stupefied" by the "awfulness" of what they are seeing: nuclear power plants leaking radiation; shortages of food, water, baby formula, medicine, heating fuel, gasoline, toilets and other basic needs; impassable roads; piles of debris; and "many places are still covered by water," he said.
Wakabayashi wrote that a half-million people are now living in shelters. Because of the large number of bodies — and crematory damages — the Japanese government is now allowing burials, something that was not allowed before the earthquake, he said.
The pastor said only one JLC congregation, located in hard-hit Fukushima Prefecture, is known to have damages — to two walls. His own church — built in 1983 with donations from the LCMS Indiana District and the Lutheran Women's Missionary League — was not damaged.
Wakabayashi believes it's a "miracle" that his 81-year-old mother-in-law was found alive on March 14 — the fourth day of the disaster. No one in the family had been able to reach her in tsunami-damaged Shiogama, where she lived alone, because of power and cell-phone outages.
She was found safe in her home by his wife's younger sister, and he and his wife were able to talk with her by cell phone, he said.
His mother-in-law's house is near the sea, but "behind a small hill, and the hill weakened the power of [the] tsunami, so she survived, though the water was more than three feet," he wrote. "But other houses faced directly to the sea were destroyed by the tsunami completely."
LCMS President Rev. Matthew C. Harrison said he is "relieved" that his old friend, Wakabayashi, and his family are OK. Wakabayashi served as a fieldworker at Harrison's Fort Wayne congregation, Zion Lutheran Church, when the Japanese pastor was a seminarian.
Wakabayashi "became a Christian through singing in a Japanese Bach choir," Harrison told Reporter, and "after a serious illness, he resolved to dedicate his life to the service of the Gospel.
"I'm honored to know him and his lovely family."
Wakabayashi asked his fellow Lutherans to pray for those who are suffering, especially those affected by the crisis at the nuclear power plants, "and give your warm hand" to survivors.
"May God turn this disaster into blessings [so] that many Japanese have faith in Jesus Christ," he said.
For more information and resources about the crisis — and to contribute to LCMS World Relief and Human Care's Disaster Relief Fund for Japan — visit www.lcms.org/help.
Posted March 15, 2011/Updated March 16, 2011