The Lutheran Church–Missouri Synod is making available an initial $200,000 to two Lutheran church bodies in Japan, to be used as they decide for disaster relief after the historic March 11 magnitude-9.0 earthquake and tsunami that is resulting in rising death tolls and billions of dollars in destruction.
At present, Japanese officials estimate that the final death count will top 10,000. Many thousands have been injured and searches continue for survivors and those still missing.
LCMS President Rev. Matthew C. Harrison announced the funding from LCMS World Relief and Human Care (WR-HC) in a March 14 video message which may be viewed at http://www.youtube.com/watch?v=hnwo4k340HQ.
He noted that the situation in Japan is "worsening," with scores of aftershocks and the second hydrogen explosion in three days — on March 14 — at the Fukushima Daiichi nuclear plant, near the quake's epicenter along the northeast Ja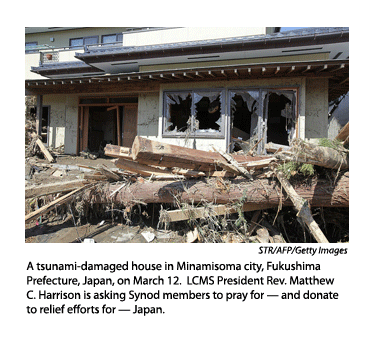 pan coast.
Harrison said that LCMS workers in proximity to the nuclear plants and elsewhere in Japan are reported to be safe.
The two church bodies designated for the WR-HC emergency funding are the Japan Lutheran Church — the Synod partner church there — and the West Japan Evangelical Lutheran Church, which operates Kobe Lutheran Theological Seminary in Kobe along with other church organizations. The president of that seminary is Dr. Makito Masaki, brother of Dr. Naomichi Masaki, associate professor of systematic theology at Concordia Theological Seminary in Fort Wayne.
In the video, Harrison also said that LCMS mission and relief personnel are ready to "be on the ground with our partners" in Japan, when invited by Japanese Lutheran partners to help them reach out to their neighbors in need.
He added that Rev. John Mehl, Asia regional director for LCMS World Mission, and Darin Storkson, WR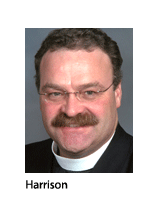 -HC regional director in Asia, would monitor developments and remain in close contact with Lutherans in Japan to determine the best course of action to help.
"We will be with our partners [there] a long, long time," Harrison said.

"It is our sacred duty" to strengthen the capacity of Lutheran partners to reach out at such times of need, said Harrison, who called on LCMS members to donate monetary gifts for Japan relief through WR-HC.
"We know especially that these circumstances allow us to demonstrate love to our partners in another place in the world," he said. "And as we do so, we'll learn from them the challenges of being among the 1 percent Christian minority in a non-Christian context."
Japanese officials and the U.S. Geological Survey (USGS) have revised the quake's estimated magnitude from 8.9 to 9.0. It is being reported as tying for fourth on the USGS list of strongest earthquakes since 1900.
For more information and resources — and to contribute to LCMS World Relief and Human Care's Disaster Relief Fund for Japan — visit www.lcms.org/help.
Posted March 14, 2011