Lutheran Church–Canada (LCC) opened its ninth triennial convention June 3-6 in Hamilton, Ontario, with a march through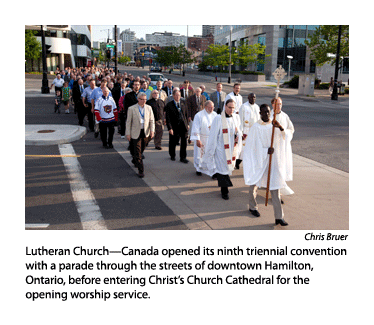 the city's downtown streets to Christ's Church Cathedral for the opening worship service. About 400 delegates, guests and members of local Lutheran congregations participated. The theme of the convention was "In your light, we see light," based on Psalm 36:9.
Because LCC President Rev. Robert Bugbee was unopposed in the election for president, the delegates adopted a resolution presented by the Commission on Constitutional Matters and Structure declaring him elected for a second three-year term by acclamation.
Newly elected for three-year terms as vice-presidents were:
Rev. Nolan Astley of Kitchener, Ontario, first vice-president;
Rev. Thomas Kruesel, Campbell River, British Columbia, second vice-president; and
Rev. Brian Falkenholt, Red Lake, Ontario, third vice-president.
Elected to six-year terms on the LCC Board of Directors were lay members:
Frank Belden, West Kelowna, British Columbia;
Ronald Roller, Langley, British Columbia; and
Cameron Pelzer, Regina, Saskatchewan.
Rev. Paul Schallhorn of Sarnia, Ontario, was elected to the board as clergy member at-large.

In his report to the convention, Bugbee restated the importance of immersion in God's Word. "The Lord will lead to form in us the mind of Christ," he said, adding he's pleased that LCC's agenda is different from other mainstrea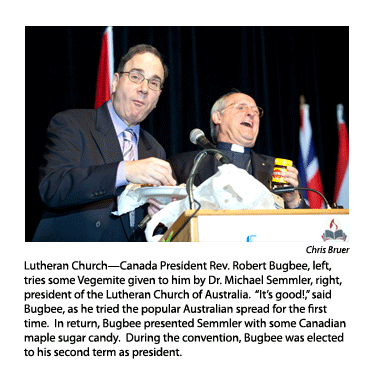 m Protestant groups that "have gone away from scriptural authority, leading to a decay of Christianity in Canada."
Convention delegates adopted a resolution that supports the LCC's Board of Directors and seminaries as they respond to a 2008 convention resolution that called for a cost-efficient seminary program.
In October of that year, the Board of Directors established the "Task Force on Cost Efficient and Sustainable Seminary Education," with the main goal of providing recommendations that would lead to providing cost-efficient theological education for the church. LCC has two seminaries — Concordia Lutheran Theological Seminary in St. Catharine's, Ontario, and Concordia Lutheran Seminary in Edmonton, Alberta.
Delegates also voted to:
unanimously welcome three congregations into the synod (LCC), bringing the total to 322.
state LCC's position that the Office of the Holy Ministry is not open to those who practice a homosexual lifestyle.
implement the recommendations of the vicarage task force report that is designed to strengthen the church body's vicarage program.
obtain legal opinion and develop policies on same-gender issues.
ask the synod and its districts to develop an Annual Church Worker's Compensation Guideline that would harmonize compensation across districts.
designate a specific Sanctity of Life Sunday.
confess the scriptural witness on the issue of embryonic stem cells that rejects the practice in favor of research using stem cells from other sources.
receive the LCC Commission on Theology and Church Relations (CTCR) report on cremation, created in response to changing attitudes toward cremation among some Christians.
receive the CTCR report on vicars celebrating the sacrament in emergency situations. The document is designed to be a reference, but urges the Council of Presidents to act on the matter of what functions a vicar may or may not fulfill during his one-year internship.
LCMS President Dr. Matthew C. Harrison addressed the delegates Sunday afternoon, stating, "We are all in this fellowship of faith, and we face the same challenges," referring to the difficult times the church is facing. "The gates of hell shall n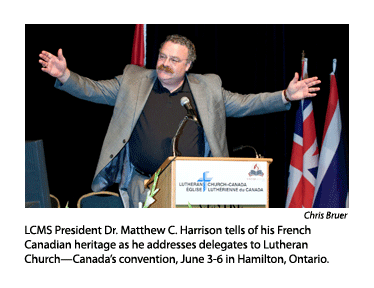 ot destroy the church," he said.
He also talked about his French Canadian heritage and noted that he once served with the Lutheran Association of Missionaries and Pilots (LAMP) in Deer Lake, a remote northwestern Ontario community. He then sang a Cree (Native American Indian) song he had learned while serving there. When he finished singing, he announced, "I have no idea what it means!," which drew laughter from the delegates.
President of the Lutheran Church of Australia (LCA) Dr. Michael Semmler, essayist at the convention, spoke to delegates three times on the convention theme. He also thanked LCC for its prayers over the past six months in the aftermath of floods in Australia and earthquakes in New Zealand.
Also greeting the convention was Dr. Wilhelm Torgerson, representing the bishop of the Independent Evangelical Lutheran Church in Germany (SELK).
Posted June 9, 2011