On a hot July evening in Houston during last summer's LCMS national convention, Dr. Walter Obare, presiding bishop of the Evangelical Lutheran Church in Kenya (ELCK), found himself without dinner plans one evening. As he was returning to his hotel room to order room service, he met a lay delegate on the sidewalk outsid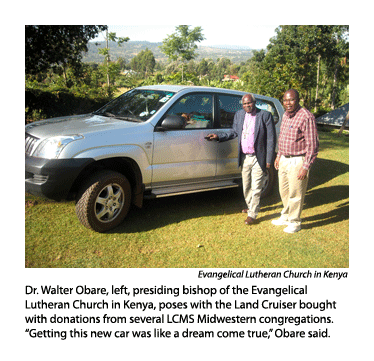 e with whom he had shared lunch and information about his ministry in Kenya the previous day.
Obare agreed to join the layman and seven pastors from Midwest congregations for a Texas-style barbecue dinner and later the group adjourned to an outside table at a dance hall across the street. There Jon Dorr, a member of Holy Cross Lutheran Church in Dakota Dunes, S.D., told the pastors about Obare's need for a new car.
His current car, a Mitsubishi, had more than 300,000 kilometers on it and as less than 1 percent of the roads in Kenya are paved, it was in constant need of maintenance as his work requires him to travel throughout the country. Obare had hoped to buy a used Land Cruiser to navigate the rough and sometimes non-existent roads, but said the cost would be over $30,000, which his church body didn't have.
That evening, Dorr challenged the pastors and their congregations to raise the needed money by Dec. 1. Although some were reluctant because their churches had few members and those members had even fewer extra dollars to spare, all agreed to share Obare's story with their congregations.
Rev. Jared Melius, pastor of Mount Zion Lutheran Church in Denver, told Reporter that his congregation raised $3,000 "simply by appealing to the members during church and Bible studies and keeping them regularly up-to-date. Honestly, I thought the people would have reacted more hesitantly, not knowing Bishop Obare or his church, but they actually reacted energetically right from the beginning."
Rev. Chadric A. Dietrich, pastor of two churches in Iowa — Immanuel Lutheran Church, Rockwell City, and Trinity Lutheran Church, Knierim — knows the importance of reliable transportation.
"My two churches in the country, both outside the city limits, know full well how important it is to have a dependable vehicle. Our two congregations are nine miles apart and most of the members drive between five and 10 miles just to get to church. And the pastor has to drive a lot as well," he wrote Reporter via e-mail.
The churches made raising the money their Advent mission project, holding dinners before Advent midweek services and giving the donations for the meal toward the project.
Dietrich said he was excited about the short amount of time it took for the funds to be raised and that it showed that "even rural congregations can have a big impact on proclaiming the Gospel of Jesus Christ."
"Rev. Joseph Fisher, pastor of Pilgrim Evangelical Lutheran Church, West Bend, Wis., was not at the dinner that evening but a pastor from Iowa who was there later told him about the Kenyan endeavor," said Dorr. "The Dec. 1 goal became more certain with the Pilgrim congregation's gift, even though not one member had met Obare in Houston."

The other congregations that raised the money are Concordia Lutheran Church, Cresbard, S.D.; St. Paul Lutheran Church, Boone, Iowa; Redeemer Lutheran Church, Fort Wayne, Ind.; and Holy Cross Lutheran Church, Dakota Dunes, S.D.
By the goal date, $33,373 had been collected. The money was wired to Kenya where the ELCK purchased the Land Cruiser for Obare's use. He has since sent pictures of the car to the eight churches involved along with a note of appreciation.
"Getting this new car was like a dream come true," Obare said in an e-mail. "I was humbled by this and I have seen the hand of God that had worked within the LCMS brethren that made it a reality."
"As I said before on my appreciation letter to the brethren who made this be realized, there are those who talk and their talks are never realized. But the brethren who sat at (that) table with me are they who make things work. God used them in a very special way."
Posted April 7, 2011