LSB's project director shares thoughts on its development, impact
By Paul J. Grime
During the development of Lutheran Service Book (LSB), which started in earnest at the beginning of 1999, all of the work advanced with one date in mind — 2004.
That was the year when final approval would be sought from delegates atten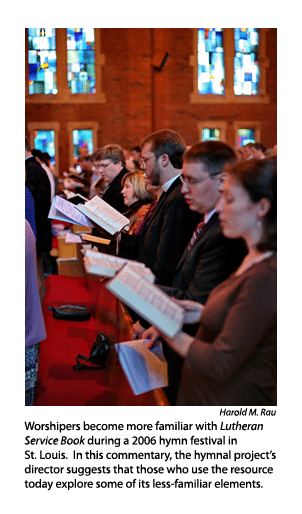 ding the Synod's triennial convention. Each of the hymnal's committees operated with the year 2004 firmly etched in their minds, and as it grew nearer, work intensified to a level none of us ever imagined. When the delegates gave their approval with a gratifying 88 percent of the vote, the relief was palpable.
So the pressure was finally over. Hardly.
Next came two solid years of production deadlines that often rivaled the intensity of the original development of the hymnal. Decisions about content were replaced with choices concerning layout, design, and a myriad of finicky little details that required our attention. Very quickly we came to know personally what it means when we say that the devil is in the details.

Approval in 2004. Publication in 2006. Now it is 2011, with this August marking the fifth anniversary of the first appearance of LSB.

In the midst of all those deadlines, none of us who worked on this project had the time to consider that one day we would be looking back. Yet, here we are, and five years out seems a good time to reflect on how far we've come.
Successes

Nearly a year ago Concordia Publishing House reported that the 1 millionth copy of LSB had recently been sold. CPH estimates that between 75-80 percent of LCMS congregations have adopted LSB. Considering that our previous hymnal, Lutheran Worship (LW), was never used by more than 60 percent of our congregations, the reception of LSB has been most gratifying.

Even better has been the ease with which LSB has been received by the members of these congregations. Anecdotal reports suggest that the transition to the new hymnal has, in many cases, been nearly effortless. Congregations that used The Lutheran Hymnal for more than 60 years, for example, have found that LSB preserved the most cherished parts of that heritage while providing new service settings and hymns to broaden their worship. And congregations that used LW, as well as other resources, have discovered a treasure trove especially in the diverse new hymnody contained in LSB.

Coinciding with the release of LSB in 2006 was a full complement of companion resources. All the standard books were part of that initial release, such as the Altar Book, Agenda, and the accompaniment books. Resources that were new with LSB include:
Pastoral Care Companion — This resource has proven to be a huge success. Though designed initially as a resource for pastors in their work of caring for the flock, the Companion is clearly finding use among other workers in the church. This fall a smartphone Pastoral Care Companion app for iOS (iPad/iPhone/iPod) and Android will be available through CPH.
Hymn Selection Guide — Providing hymn suggestions for every Sunday of the year in both the one- and three-year lectionaries, the Guide has proven to be a valuable resource for worship planners.
Guitar Chord Edition — Every hymn and chant in LSB is included in this resource. Soon it will be supplemented by an additional resource providing chords for all of the services in LSB.
The Concordia Organist — Full recordings of every service and hymn (filling 31 CDs) has proven to be of great help in congregations where no one is able to lead the congregation's singing. While a "live" organist or pianist is always preferred to this "organist in a box," it has nevertheless been a welcome and very usable resource for some of our congregations.
Lutheran Service Builder — This groundbreaking software package from CPH continues to evolve, with improvements and updates provided on a regular basis. With more than one-third of LCMS congregations using the Builder in some fashion, it has proven to be a flexible resource for worship planning, bulletin preparation and copyright management.
Other resources currently in the pipeline include:
a 12-volume collection of organ preludes on all the hymns (with volume one available by the end of the year);
the hymnal companion, containing background information on all of the hymns, as well as their authors and composers; and
a full commentary on all the services in LSB.
When I am occasionally asked when I think the Synod will produce the next hymnal, I jokingly reply, "Not during my lifetime!" The truth is, LSB has an abundance of treasures that most folks have yet to discover. After five years of use, many pastors and church musicians have become familiar with a good portion of the services and hymns. That probably means, however, that there are other resources in LSB that they have already learned to overlook.
I know from personal experience that when I look back at our previous hymnals, I'm often surprised by something I find that I had forgotten was there. I've even turned a page or two in LSB and thought to myself, "I forgot that we included that."
Exploring what's 'less familiar'
All of this is to say that now is the time for pastors and musicians to expend some effort to get to know those parts of LSB that are less familiar. For instance, I suggest the following:
When you come across a hymn you don't recognize, take time to examine the text.
If there's a melody with which you're not familiar, play through it (or ask your musician to play it for you if you can't read music).
Become acquainted with and use the large collection of prayers (LSB, Pages 305-18; Altar Book, Pages 427-70).
Consider using the left-column option in the "Service of the Sacrament" (Setting One, Page 162; Setting Two, Page 179) and be sure to use the seasonal texts for the Prayer of Thanksgiving in Setting Four (Page 209; Altar Book, Pages 266-68).
Start teaching new hymns to the congregation and consider introducing a new service setting — always remembering to take it slowly.
As you get to know LSB better yourself, the congregation will be richer for it and will find the hymnal to be a plentiful resource that can serve for many years to come.
Dr. Paul J. Grime, executive director of the LCMS Commission on Worship from 1996 to 2007, served as project director during the development and production of Lutheran Service Book. He now serves as associate professor and dean of the chapel at Concordia Theological Seminary in Fort Wayne, Ind. Dr. Grime has launched a new blog — "Lutheran Service Book: The Next Five Years" — that offers insights and ideas for using LSB more fully. It is at www.lutheranserviceblog.blogspot.com.
Posted July 29, 2011