After four years — and hundreds of hours of research — Concordia Publishing House has produced The Story Bible for children ages 3 to 8.
The new Bible features lifelike illustrations, Christ-centered stories and resources designed to enhance learning. It may be read to children and by children in homes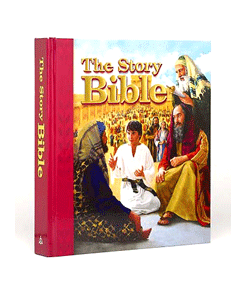 , schools or as part of a congregational children's ministry.
CPH Senior Editor Rev. Edward Engelbrecht, who co-authored the The Story Bible with fellow CPH Editor Gail Pawlitz, called it "a dream project for me, since I had used numerous Bible story books with my four children but was never quite happy with what was available.
"The books were missing important elements such as faithfulness to the biblical text, consistent focus on salvation in Christ, or appropriate artwork. You might find one or two of these elements, but never all together in one package."
To provide the church with a children's Bible that included all of those elements — and could help increase a child's understanding of the Bible — Engelbrecht and Pawlitz spent hundreds of hours reading and talking to children.
Pawlitz discovered that "people, places and objects that look real to children translate to them as being real and true," she said. "That is why the illustrations in The Story Bible are not abstract cartoons. Their realistic look helps reinforce to little children that the Bible is real, the people in it are real, and the places referenced are real."
"Aside from beautiful pictures and a wonderful design, The Story Bible offers something no other children's Bible provides — the wonderful Christ-centered power of the Holy Scriptures," said CPH Publisher Rev. Paul McCain. "Children will love this Bible, and parents and grandparents will love sharing it with them."
The publishing company's intent was to "keep the focus on Christ by presenting stories with Old Testament prophecies about Christ — God's gift of the Savior." So, instead of paraphrasing, Engelbrecht and Pawlitz worked together to draw stories directly from the Bible and adjusted them for student readability.
Also included in the Bible are "Ask, Do and Pray" features that complement the text, and introductions to help readers better understand the 130 Bible stories included in the book.
"We had the opportunity to do this Bible story collection right — from the start," said Engelbrecht. "Plus, field tests of early editions helped us affirm the direction we were going."
"Jesus is the Savior God promised for all of His believers," said Pawlitz. "I truly believe that this Bible sharpens that point better than any I have ever reviewed."
To order or learn more about The Story Bible ($29.99, item no. 012049WEB), visit www.cph.org (click here) or call CPH at 800-325-3040.
Posted July 22, 2011