The Rev. John Barton "Bart" Day was installed Aug. 1 as executive director of the Synod's new Office of National Mission (Life Together). In the new position, Day oversees the national mission functions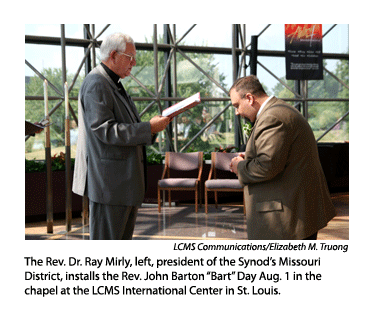 of the ministries based at the International Center.
He began serving July 1 in the post — one of two executive-level positions created to support the LCMS churchwide emphasis of "Witness, Mercy, Life Together." The other position, executive director of the Office of International Mission (Witness and Mercy) — yet to be filled — will oversee international work.
Ministry areas in the Office of National Mission include Lutheran schools (through the high-school level), youth, stewardship, worship, Recognized Service Organizations, "The 72 — Partners on the Road," ethnic ministries, and other ministries for equipping congregational outreach and renewal.
The installation service was held in the chapel of the LCMS International Center in St. Louis, with Synod President Rev. Dr. Matthew C. Harrison preaching on Matt. 14:13-21 — the story of Jesus feeding 5,000 with five loaves of bread and two fish.
Harrison noted that the Bible has much to say about koinonia, or life together.
Addressing Day and his new position, Harrison quoted Dietrich Bonhoeffer's book Life Together, which relates that "listening can be a greater service than speaking."
"The first task is to listen to those people in your department," Harrison told Day. "And then we have the grand task of listening to the church."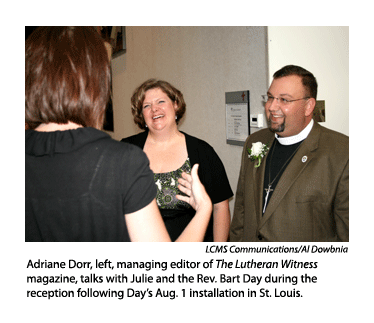 Harrison added that it will be "challenging to put your convictions … into use while first listening to the people of God out there — but that's what you're called to do."
The installation service was followed by a reception for Day and his family in the International Center cafeteria. Day and his wife, Julie, have five children.
"I am very excited about the opportunities to serve the church in this new position," Day told Reporter. "Our life together in national mission means boldly proclaiming the Gospel and strengthening congregations for Word and Sacrament ministry. I pray that the Lord will bless us in our work."
Prior to accepting his new position, Day served as associate pastor of Memorial Lutheran Church, Houston, and as headmaster of Memorial Lutheran School.
To watch a YouTube video of Harrison's sermon, click here.
To see Mirly installing Day, click here.
Posted Aug. 2, 2011/Updated Aug. 3, 2011