By Kim Plummer Krull
Tim Staffeld says he probably could make more money with a "regular" summer job. And the Concordia University Chicago, River Forest, Ill., student has no doubt he would sweat less if he weren't helping replace more than 100 windo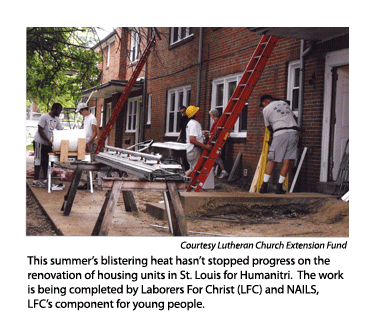 ws in inner-city St. Louis homes in the blistering summer heat.
But while his summer work may have what some consider drawbacks, Staffeld says he enjoys working with NAILS.
"It's a great ministry that reaches out to a lot of people," Staffeld said of NAILS, the young adult component of Laborers For Christ, the Lutheran Church Extension Fund (LCEF) ministry that provides opportunities to work for Lutheran Church–Missouri Synod organizations on construction-related projects. While most Laborers are retirees or near retirement age, NAILS workers are college and seminary students.
Staffeld is one of five NAILS participants working this summer alongside Laborers for the LCMS Recognized Service Organization, Humanitri. The St. Louis-based ministry has asked Laborers to renovate its transitional housing units scattered throughout the city for 32 formerly homeless families.
As he rips out old glass and gutters, Staffeld also has moments to witness his faith. When one resident talked about her challenges as an unemployed, single mother of nine, Staffeld listened and said he would pray for her. "Before I left, we hugged," said Staffeld, who is considering a future career as a pastor.
Executive Director Robert Otrembiak asked Laborers For Christ to work for Humanitri after the social services agency received a capital improvements grant from the St. Louis Mental Health Board. Laborers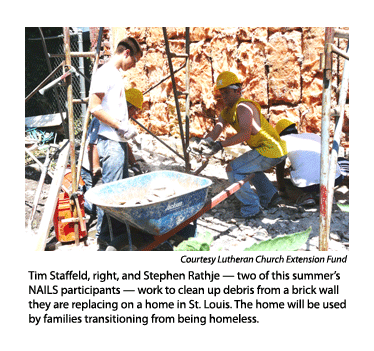 and NAILS "are doing this work, not for profit, but for God and community," Otrembiak said. The Lutheran agency serves mothers and children struggling with poverty, homelessness and incarceration.
"We're very grateful for these people who want to display their faith in ways that are so tangible and so needed," he said.
Before heading into the city each work day, Laborers and NAILS workers begin with devotions at a recreational vehicle (RV) park. Many of the Laborers — who come from Florida, Indiana, Illinois and Missouri — live in RVs while they work on the project. Staffeld and fellow NAILS participant Peter Baumgarten, a Valparaiso University student, stay at the home of an LCEF employee. The other young NAILS participants are from the St. Louis area.
"We have workers from 18 to into their 80s," said Ron Horstmann, project manager and member of Concordia Lutheran Church, Kirkwood, Mo. "The older Laborers enjoy the students, and the students are getting along exceptionally well with the Laborers."
As the NAILS workers begin returning to school in August, local volunteers will be invited to work on the project, which is expected to finish in October.
The triple-digit heat and multiple work sites have created some challenges on what Horstmann calls a "non-traditional" Laborers endeavor: one in which they are not working for a congregation.
But the project also includes blessings. One is the "huge, wonderful support," Horstmann says, from local businesses Niehaus Construction Services and Castle Rock Remodeling, which are providing tools and discounted supplies.
As he works atop a ladder in sweltering heat, Hortsmann says residents occasionally ask why he toils so hard for people he doesn't know. If he's wearing his blue Laborers For Christ T-shirt printed with Col. 3:23, Horstmann points to the Scripture.
"We're serving the Lord," he says. "That's why we're here."
To learn more about Humanitri, visit www.humanitri.org or call 314-772-7720. For information about Laborers For Christ and NAILS, call 800-854-4004, ext. 6446, or visit www.lcef.org/services/laborers_for_christ.
Kim Plummer Krull is a freelance writer and member of St. Paul's Lutheran Church, Des Peres, Mo.
Posted Aug. 5, 2011