Rev. John Barton "Bart" Day will join the Synod staff July 1 as executive director of the church body's new Life Together department that will include national mission functions of the ministries based at the Synod's International Center in St.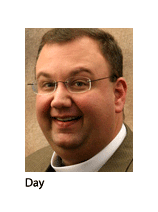 Louis.
Since 1997, Day has been associate pastor of Memorial Lutheran Church in Houston, and has served since 2005 as headmaster of Memorial Lutheran School. Since 2007, Day also has been an instructor at LINC Houston's Bible Institute.
From 2002 to 2005, he taught teacher-colloquy courses at Concordia University Texas, Austin.
Day's new position at the LCMS International Center in St. Louis was formed in response to adoption of Resolution 8-08A by delegates to the 2010 Synod convention. That resolution called for restructuring the national Synod by reducing its seven program boards and some staffed commissions to two elected policy boards: one for national mission work and one for international mission work.
The executive director of Life Together is one of two new executive-level positions created to support the LCMS churchwide emphasis of "Witness, Mercy, Life Together." The other position, executive director of Witness and Mercy — yet to be filled — will oversee international missions.
Ministry areas in the new Life Together department will include Lutheran schools (through the high-school level), youth, stewardship, worship, Recognized Service Organizations, "The 72 — Partners on the Road," Black ministry, Hispanic ministry and other ethnic ministries, and other ministries for equipping congregational outreach and renewal.
"I'm delighted Pastor Day is coming on board," said LCMS President Rev. Matthew C. Harrison. "We've made it through the restructuring, and many difficult decisions. Now it's time to begin looking into the future and at the blessings to come. Bart is exceedingly entrepreneurial; kind to a fault. He's led a large parochial school staff of some 45 people, and done it with great success. His gifts will be a tremendous blessing to our life together in the Synod."
Day's service to the church also includes leading or participating in numerous mission trips to countries such as the United Kingdom, Mexico, Nicaragua and Kenya. He is a member of the board of directors of The Friends of Westfield House, which supports the Evangelical Lutheran Church of England's seminary that is located in Cambridge, England. Also, Day — an accomplished vocalist — is a frequent presenter and instructor at worship conferences.
Day holds a bachelor's degree from Concordia College (now Concordia University Nebraska), Seward, Neb., (1992), and a Master of Divinity degree from Concordia Seminary, St. Louis (1997). He is pursuing additional advanced degrees from Notre Dame University, South Bend, Ind., and Concordia University Nebraska.
A native of Carlyle, Ill., Day and his wife, Julie, have five children.
Posted May 5, 2011