Chaplain (Col.) Rev. Gregory K. Williamson, a native of Walters, Minn., who is now serving in Seoul, South Korea, has accepted a call to serve a three-year term as the Synod's chief mission officer (CMO). Williamson plans to begin serving in his new post in January 2012, when his military obligation is fulfilled.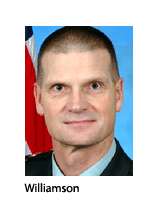 The new CMO position was mandated by the Synod's 2010 national convention with adoption of Res. 8-08A, which also realigned the church body's national ministries under two new mission boards.
Williamson was appointed to the position by LCMS President Rev. Matthew C. Harrison after consultation with the Boards for National and International Mission, as well as unanimous concurrence by the LCMS Board of Directors.
"Chaplain Williamson is a wonderful choice for the position of chief mission officer," Harrison said. "He has an extraordinary background, and he will be a terrific asset for The Lutheran Church–Missouri Synod. He is a wonderful man. He brings to the position not only a strong collegial and pastoral emphasis, but also superb leadership qualities and administrative skills.
"When he visited us here at the International Center earlier this year, we were all impressed. He made a very good impression on the unit executives, too. We are delighted that he has accepted the position."
Williamson currently serves as the command chaplain for United Nations Command (UNC), Combined Forces Command (CFC) and United States Forces Korea Command (USFK) at United States Army Garrison-Yongsan, Seoul, advising the UNC/CFC/USFK commander on matters of religion, morale, morals and quality of life.
He also coordinates policy and activities with Army, Navy and Air Force chaplains, and with staff and command chaplains at Combatant Commands and the Joint Chiefs of Staff.
Williamson is a 1980 graduate of Concordia College (now University), Portland, Ore., and a 1983 graduate of Concordia Seminary, St. Louis. He was commissioned in the Army in 1982 and served as a reserve chaplain and civilian pastor until receiving a call to active duty in 1986.
He and his wife, Jacqueline, have two sons.
Among his duties as the Synod's chief mission officer, Williamson will:
serve as the LCMS president's liaison to Synod commissions and corporate entities.

work closely with the Synod's chief financial officer and chief administrative officer in carrying out the programmatic, administrative and financial functions of the national church body.

supervise staffs of the two mission boards, national LCMS fundraising efforts and Synod communications, including the official periodicals.

provide leadership, coordination and oversight for pre-seminary, seminary and post-seminary education, and advocacy for pastoral education and health within the Synod.
Posted May 6, 2011