Dr. Jane L. Fryar will lead intensive workshops in writing May 16-20 at Concordia University Wisconsin, Mequon, Wis., and May 23-27 at Concordia Universi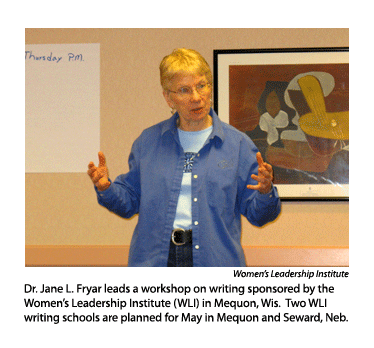 ty Nebraska, Seward, Neb. Fryar is a writer, editor, speaker and consultant.
Sponsored by the Women's Leadership Institute of Concordia University Wisconsin, the workshops are designed to provide opportunities for women to hone their writing skills and gain practical experience in Christian communication.
Registration for either writing school is $240 and includes one dinner.
A School for Speakers led by Ruth N. Koch, a mental health educator and author, speaker and consultant — and planned for the same dates and sites as the WLI writers workshops — has been cancelled.
For more information, visit the WLI website at www.wlicuw.org or call the WLI office at 262-243-4422 or (toll free) 866-559-0002.
Posted May 5, 2011