"There are some horrific stories of suffering," a Lutheran Church of Australia (LCA) pastor said to LCMS World Relief and Human Care's (WR-HC) Darin Storkson in an e-mail about devastating floods through early January that have caus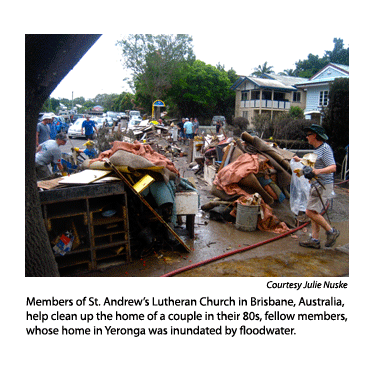 ed at least 28 reported deaths and destroyed thousands of homes and businesses on the continent's northeast section.
Rev. Noel H. Noack, president of the LCA Queensland District, worked with staff late into the night to evacuate that district office on Jan. 11. He shared his thankfulness for the rooftop rescue of his nephew after the nephew was stranded 14 hours overnight at another site. "This will be only one of the myriad stories that will emerge," Noack wrote from flood-ravaged Queensland.
Storkson, regional director in Asia, and Rev. Glenn F. Merritt, director of Disaster Response with WR-HC, are monitoring needs in Australia and have been in contact with LCA leaders. The danger is not yet over, Storkson said, and prayers and inquiries from the LCMS about assistance needs have been welcomed.
WR-HC stands ready to respond with material or financial help, Merritt said, if requests are made.
To learn more about the flooding in Australia, visit the LCA website at http://www.lca.org.au/index.php.
To help LCMS World Relief and Human Care respond to disasters around the world and assist congregations and partners, make a gift to the WR-HC General Disaster Fund:
Mail checks (with "General Disaster Fund" noted in the check memo line) to LCMS World Relief and Human Care, P.O. Box 66861, St. Louis, MO 63166-6861.
Call toll-free 888-930-4438 to make a credit card gift.
To give online, click here.
Posted Jan. 20, 2011