Former LCMS and Lutheran Church–Canada (LCC) district president Dr. Albin J. Stanfel died July 7 in Kitchener, Ontario, after a long bout with cancer. Dr. Stanfel, 82, was surrounded at the t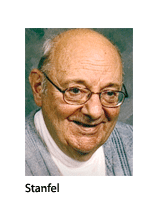 ime of his death by his children Julie, Marty and William.
The funeral service for Dr. Stanfel is planned for 2 p.m., Saturday, July 16 at Historic St. Paul's Lutheran Church in Kitchener. There will be no public visitation.
A live webcast of the funeral will be available online at www.lutheranchurch.ca/video.
Dr. Stanfel served as president of the LCC's East District (formerly the LCMS Ontario District) from 1970 to 1991. A 1955 graduate of Concordia Seminary, St. Louis, Dr. Stanfel started two mission congregations for the Synod's Ontario District — Our Saviour Lutheran Church, Thistletown (now Etobicoke), Toronto, where he served from 1955 to 1964, and Hope Lutheran Church, Kitchener (1964-68).
In 1968 he was appointed as the first associate executive secretary of the Ontario District, and he was elected district president two years later.
Dr. Stanfel served both the LCMS and LCC in numerous capacities, including helping establish the LCC as an autonomous church body in 1989 by serving on its Board of Directors and as LCC vice-president and secretary.
He received an honorary Doctor of Divinity degree in 1976 from Concordia Theological Seminary, then in Springfield, Ill., and the Christo et Ecclesiae Medallion from Concordia College, Edmonton (now Concordia University College of Alberta) in 1984.
"President Stanfel was a father to me and to so many others who leaned on him for courage and direction. He shepherded Ontario congregations through the trying years of the Scripture controversy," said LCC President Rev. Robert Bugbee. "He poured his life's energies into the welfare of God's people. Even though he spent decades in leadership, he was always approachable and plain-spoken. Above all, he knew himself to be God's child, purchased and won by the Christ who bled and died for him. Our hearts are sore at losing him, but we're glad to commend Him to the Lord's safe-keeping."
Dr. Stanfel was preceded in death by his wife, Dorothy, and son Jonathan.
Posted July 8, 2011