By Kim Plummer Krull
Five weeks after the sirens blasted a final evacuation warning, Amanda Mosser and coworkers at the Dakota Boys and Girls Ranch are among the thousands of Minot, N.D., area residents still living in emergency shelters, campers or with friends and family.
While they deal with their own flood-damaged homes, they also ensure that an important faith-based program continues to serve youngsters with emotional and behavioral challenges.
More than 40 staff members at the LCMS Recognized Service Organization lost their homes or suffered severe damage during June's historic flooding; another 19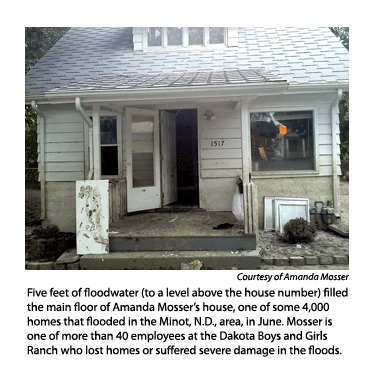 employees are displaced from apartments and rental homes. After Mosser's house filled with five feet of water on the first floor, "everything had to be torn out, from the ceiling down to the buckled floors," she said, "the cabinets, the tub, the toilet, down to the two-by-fours."
But even as they cart ruined possessions from saturated homes, Dakota Boys and Girls Ranch (DBGR) staff "are persevering and determined that clients who depend on them are still served during this difficult time," said Mosser, executive assistant to DBGR President Gene Kaseman.
The flooding also forced the evacuation of 46 youth, ages 10 to 18, from the ranch's Minot facilities to its Fargo and Bismarck programs. The Minot Community Youth Home, which serves youngsters with addiction issues, is a total loss, says Sheila Miller, DBGR vice president of finance. Floodwaters damaged five buildings on the campus outside of Minot, which remains without water and sewer services.
To keep programs operating and serving children, Minot employees are making more than 100-mile commutes to Bismarck and Fargo.
"It's been a tough year," Miller said. "We've had blizzards, floods, fires. But the Lord is keeping us going. We're a faith-based organization, and that's a strong part of our resolve right now."
Prayers and gifts also help bolster spirits and pay bills. A $5,000 emergency grant from LCMS World Relief and Human Care (WR-HC) to DBGR is helping employees with unexpected financial challenges.
DBGR leaders "were very concerned about their workers who were struggling with their own homes as they struggled with needs at work," said Rev. Carlos Hernandez, director of Districts and Congregations with WR-HC, who met with DBGR executives and Minot-area pastors in June when he helped assess needs and get the ball rolling on grant support. "Helping the ranch help its employees was another way the church, through World Relief and Human Care, could reach out into the community as a witness to the Gospel."
WR-HC previously provided grants to Our Savior and St. Paul Lutheran churches in Minot to help the congregations assist member and community needs caused by the flooding.
On Aug. 24, Rev. Glenn F. Merritt, director of Disaster Response with WR-HC, plans to meet with DBGR staff and do follow-up assessments. "Having grown up in North Dakota and in the same small town as DBGR President Gene Kaseman, I know how vital this ministry is to the people of North Dakota and especially to the many young boys and girls whose lives have been changed by the caring and concern of the staff at Dakota Boys and Girls Ranch throughout its rich history," Merritt said. "We will be there to support them during this recovery as they continue to reach out with mercy to young adults."
In addition to financial support, the Synod's mercy arm sent 11 quilts made by the Trinity Quilters from Trinity Lutheran Church, Indio, Calif., to DBGR. The group donated the handmade treasures, each embroidered with a Bible verse, to WR-HC to share with people in need, such as the ranch's young evacuees.
Quilts and grant dollars go only so far, but Mosser says "every act of kindness and concern, no matter how big or small," helps flooded families cope. She tells of volunteers delivering meals to evacuees and a friend bringing a crew to clean debris from her house.
"Each gift, every gesture, lifts our spirits and reminds us that people care," Mosser said. "That means a lot."
To learn more about Dakota Boys and Girls Ranch, visit www.dakotaranch.org.
To make a gift to help WR-HC assist families suffering from historic floods:
Mail checks (noting "Spring Floods 2011" in the memo line) to LCMS World Relief and Human Care, P.O. Box 66861, St. Louis, MO 63166-6861.
Call toll-free 888-930-4438.
Make an online donation at www.lcms.org/disaster/flood.
Any funds not needed for this relief effort will be used for other disaster purposes as determined by LCMS World Relief and Human Care. Your gift is tax-deductible to the extent permitted by law.
Kim Plummer Krull is a freelance writer and member of St. Paul's Lutheran Church, Des Peres, Mo.
Posted July 29, 2011