By Sarah Schafer
A 150-year-old LCMS church and parish house located less than a mile from the White House were damaged in the 5.8-magnitude East Coast earthquake of Aug. 23.
But the church, Mount Olivet in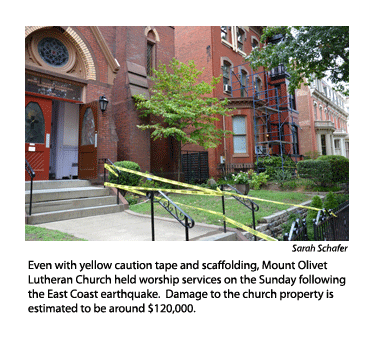 Washington, D.C. — which had invested $15,000 to prepare for the anticipated high winds and rain from Hurricane Irene — was spared from further damage in the storm, which peaked in the city a few days later, on Aug. 28.
The quake caused two chimneys on the property to crumble, sending brick into the front yard and alley.
It also left "some tremendous cracks" leading up to stained-glass windows that were a gift from U.S. President James Garfield's widow years before the congregation moved into the building, according to Mount Olivet Pastor Rev. John Johnson.
The walls of the third floor of the parish house — now used as office space — also buckled during the quake, causing plaster to crumble, but no one was injured, Johnson said.
The congregation began in the 1930s as a mission to African-Americans, and today they comprise 80 percent of its membership.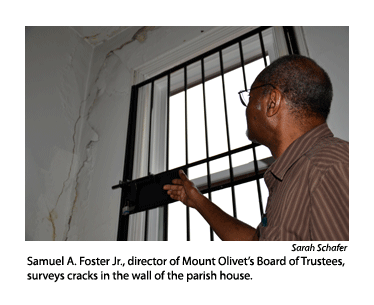 Even with scaffolding and yellow caution tape on the property after the earthquake, worship was held in the church Aug. 28.
Early estimates for earthquake repairs total about $120,000. Mount Olivet is insured, but at this writing it was not known whether or not the policy includes earthquake protection.
"We know the Lord will provide," said Johnson.
LCMS Southeastern District (SED) President Rev. Dr. Jon Diefenthaler and SED staff visited the church Aug. 29 to see the damage firsthand and provide words of encouragement and prayer.
"Pastor Johnson was most concerned with the people of the congregation, that this would discourage them," said Diefenthaler.
LCMS World Relief and Human Care's (WR-HC) Rev. Carlos Hernandez, who is working with LCMS districts affected by Hurricane Irene, also contacted Johnson to off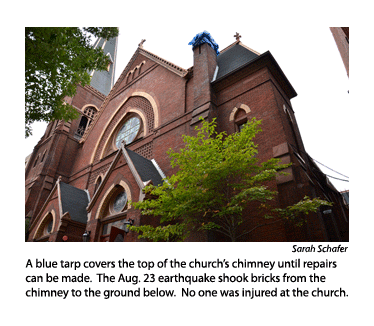 er support.
"This church was caught between an earthquake and a hurricane," said Hernandez, who will partner with the SED and donors to assist Mount Olivet. "This is a church we'll be working with for awhile."
The SED sent out a request for prayer for the congregation Aug. 29.
Diefenthaler said his prayer "would be that people who are connected with these congregations [affected by the earthquake and Hurricane Irene] be the hands and feet of Jesus."
Adds Johnson: "How powerful and what a blessing it would be for our brothers and sisters of the district and Synod to keep us in their prayers."
To learn more about LCMS Disaster Response, visit www.lcms.org/disaster.
Sarah Schafer is a freelance writer based in Fairfax, Va.
Posted Sept. 3, 2011