By Sarah Schafer and James Heine
According to media reports, a series of central Texas wildfires this weekend has destroyed hundreds of homes in the Lone Star State.
Among the most serious is a fire that forced the evacuation of more than 5,000 Bastrop County, Texas, residents and burned nearly 500 homes in the community, including the home of at least one LCMS family.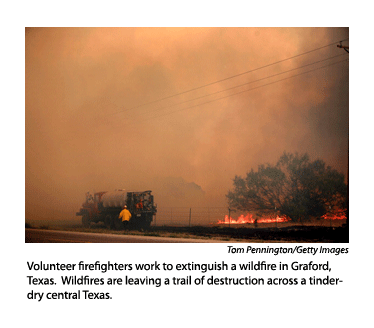 LCMS World Relief and Human Care (WR-HC) Disaster Response staff have offered assistance to the Texas District, and are awaiting an assessment the district will initiate tomorrow, Sept. 6.
"I have been in touch with Rev. Steve Misch, the Texas District disaster response coordinator," said the Rev. Glenn F. Merritt, director of Disaster Response with WR-HC. "He is on his way to the affected areas and will arrive there tomorrow. He has asked for our advice and assistance, which have been offered."
Merritt said he and Texas District officials expect the number of damage reports from congregations and members of the LCMS to increase.
The fires are the result of strong weekend winds and one of the worst summertime droughts Texas has experienced in decades.
Additional LCMS information will be provided as it becomes available to Reporter Online.
The following Texas media links provide a summary of the fires and their effects:
To make a gift to help WR-HC assist families suffering from Texas wildfires:
Mail checks (noting "Fire Relief" in the memo line) to LCMS World Relief and Human Care, P.O. Box 66861, St. Louis, MO 63166-6861.

Call toll-free 888-930-4438.

To make an online donation, visit www.lcms.org/givenow/texasfires. To designate your gift, please include "Texas Wildfire Relief" in the comments box of the giving form.
NOTE: Any funds not needed for this relief effort will be used for other disaster purposes as determined by LCMS World Relief and Human Care. Your gift is tax-deductible to the extent permitted by law
Southern churches weather Tropical Storm Lee
No LCMS churches were damaged and no members were seriously affected by Tropical Storm Lee, according to a preliminary report Monday afternoon, Sept. 5, from Southern District President Rev. Kurtis D. Schultz.
"There is absolutely no damage anywhere, and all of our people are OK," said Schultz, who touched base with congregations from Jackson, Miss., to Panama City, Fla., following the weekend storm.
Despite a reported 14 inches of rain in parts of the South, the storm came in bands far enough apart that water-management systems were mostly able to keep up with the deluge, Schultz said.
In preparation for the landfall of the storm, Schultz, in response to forecasts and weather alerts, had activated his district's disaster-response and care-response teams, with the latter focusing especially on assisting people in low-lying areas who struggle with mobility problems.
Grace Lutheran Church in Destin, Fla., reported 70 mph gusts of wind at the beach Monday afternoon. Yet Schultz remains confident that LCMS churches and members will weather the last of the storm without problems. He said he plans to release Southern District Disaster Coordinator Rev. Ed Brashier, a "licensed tree surgeon," to head to North Carolina to assist communities hard hit by Hurricane Irene last week.
LCMS Disaster Response director Rev. Glenn Merritt is checking with the LCMS Mid-South District in regard to the potential aftereffects of Tropical Storm Lee.
Posted Sept. 5, 2011