By Kim Plummer Krull
When Hurricane Ike ravaged Texas three years ago, Dr. Lou Jander worked to help people whose lives were turned upside down by that storm. Today, the retired LCMS Texas District disaster-response coordinator and mission and ministry facilitator is one of as many as a dozen LCMS members whose homes are feared destroyed by wildfires raging in central Texas.
Jander wrote on his Facebook page Sept. 5 that he is "about 99 percent certain (without actually seeing our home) that the area we live has been leveled by the fire … ."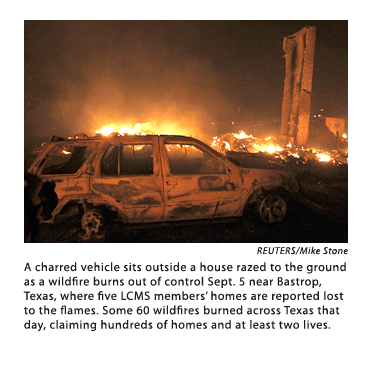 "It's hard to imagine that 45 years of marriage has been reduced to 'one box' of material," Jander wrote on Facebook, saying that he and his wife, Martha, evacuated with only a box of belongings, two cars and their dog.
The Janders and five other members of Prince of Peace Lutheran Church in Bastrop reportedly lost their homes, according the Rev. Glenn F. Merritt, director of Disaster Response with LCMS World Relief and Human Care (WR-HC), although the extent of damages has yet to be confirmed.
"Because this is still a very active fire, no one will be allowed back in for the next 24 hours to determine if their home has been lost," Merritt said in an email. "They have however been told by firefighters and neighbors that the fires consumed their homes."
The fires destroyed more than 1,000 homes and forced thousands of residents to evacuate to shelters over the weekend, according to news reports. Fanned by winds left over from Tropical Storm Lee, the blazes raced over parched acres, increasing the scorched total to a reported 3.6 million acres that have burned in Texas since December.
LCMS members in Palo Pinto County near Possum Kingdom Lake, Pflugerville, Lake Travis and other areas also reportedly lost their homes, said Merritt, who is working to monitor damages and needs in collaboration with LCMS Texas District President Rev. Kenneth Hennings; the Rev. Steve Misch, the district's current disaster-relief coordinator and a mission and ministry facilitator; and Lutheran Social Services of the South (LSS), an LCMS Recognized Service Organization based in Austin.
On Sept. 6, WR-HC announced a grant of up to $25,000 to support the work of LSS in response to the wildfires in Texas.
"Texas is on fire with 63 active fires burning in every direction. Fire crews are exhausted and communities are on edge across the state," said Merritt, who observed the fires in Bastrop and west of San Antonio as he drove Sept. 5 to his home in Arlington.
To date, there have been no reports of LCMS churches or schools lost to the blazes, Merritt said. Texas District leaders are asking pastors and congregations in six regions for damage assessments in their communities.
Grace Lutheran Church in Smithville and many members previously were ordered to evacuate, but the church is now serving as a community shelter, Merritt said.
By Sept. 6, winds were reportedly calming as firefighters continued to battle the blazes.
Jander said via Facebook that he is ministering to fellow evacuees. He and his wife are "safe and comfortable" staying with their daughter in Austin, Jander said, but "it will be hard to see what the remains of our nice home look like."
"So, what does the future hold? God knows and in Him we trust. He will lead and bless His people! God be praised," Jander wrote. "Keep praying."
To hear a Sept. 7 KFUO radio interview with Rev. Steve Misch, disaster relief coordinator for the LCMS Texas District, click here.
Other information about the wildfires in Texas may be found on the LCMS Texas District's disaster-relief website at http://www.texasmmf.org/relief/index.html and its blog site at http://txdistrelief.blogspot.com/.
To make a gift to help WR-HC assist households, congregations and communities suffering in the wake of the Texas wildfires:
Mail checks (noting "Fire Relief" in the memo line) to LCMS World Relief and Human Care, P.O. Box 66861, St. Louis, MO 63166-6861.

Call toll-free 888-930-4438.

To make an online donation, visit www.lcms.org/givenow/texasfires. To designate your gift, please include "Texas Wildfire Relief" in the comments box of the giving form.
NOTE: Any funds not needed for this relief effort will be used for other disaster purposes as determined by LCMS World Relief and Human Care. Your gift is tax-deductible to the extent permitted by law.
Kim Plummer Krull is a freelance writer and a member of St. Paul's Lutheran Church, Des Peres, Mo.

Posted Sept. 06, 2011
Updated Sept. 07, 2011