Rev. Carlos Nagel was elected president of the Evangelical Lutheran Church of Argentina (known by its Spanish acronym, IELA) at its March 26-27 conventio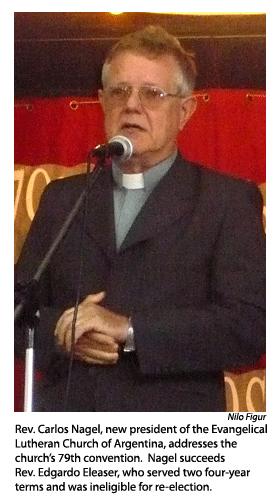 n in Santa Elena, Argentina. The theme of the IELA's 79th convention was "Servants in Mission."
The following day, the outgoing president — Rev. Edgardo Eleaser, who served two four-year terms and was term-limited — installed Nagel as president.
A parish pastor in Leandro N. Alem, Misiones, in northern Argentina, Nagel also has served as an IELA vice-president.
"The IELA is truly a sister church of the Missouri Synod, struggling with many of the trials that we do," said Dr. Albert B. Collver III, the Synod's director of Church Relations — assistant to the president, who attended the convention. "It is a church under the cross that is attempting to remain faithful to the Scriptures and the Confessions. But there is a good spirit among her pastors."
Also attending the convention were Rev. Ted Krey, regional director for Latin America and the Caribbean with LCMS World Mission, and Rev. James Fandrey, executive director of the Lutheran Heritage Foundation, an LCMS Recognized Service Organization.
The LCMS and the IELA are partners both in mission and in theological education, said Collver. Earlier in March, the LCMS and the IELA signed a partnership agreement between the LCMS Dominican Republic Mission effort and Concordia Seminary, Buenos Aires,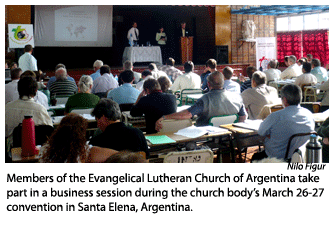 to provide theological education to the Dominican Republic with the vision to reach out to all the Caribbean in the future.
Krey and Rev. Sergio Fritzler, rector of the Buenos Aires seminary, "forged this partnership to help both churches engage more effectively and efficiently in mission by collaborating and pooling resources," Collver added.
With close to 30,000 baptized members and almost 70 congregations, the IELA is the largest Spanish-speaking Lutheran church in the world. Founded in 1905, the IELA has engaged in mission work throughout South America and to Spain. It is a member of the International Lutheran Council.
Posted April 4, 2011