By Kim Plummer Krull
As the death toll continues to climb and radiation worries persist, disaster survivors along the coast of Miyagi and Fukushima Prefectures began receiving the first of weekly emergency shipments from Japanese Lutheran partners who say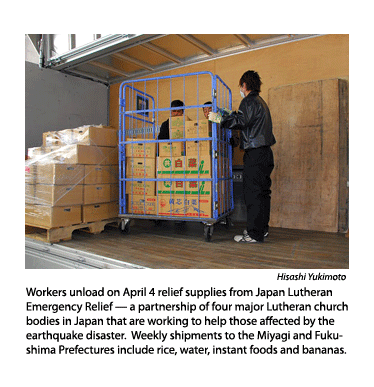 assistance may be needed in heavily impacted areas for as long as three years.
The first shipment arrived March 28 from Japan Lutheran Emergency Relief (JLER), a newly formed partnership of four major Lutheran church bodies, including the Japan Lutheran Church (JLC), an LCMS partner church. Weekly shipments are planned for every Monday, delivered by four four-ton trucks procured by JLER. Initial deliveries include rice, water, instant foods and bananas.
To date, LCMS World Relief and Human Care (WR-HC) has committed a total of $300,000 to Japanese Lutheran partners to use for relief efforts since the March 11 earthquake and tsunami.
"Currently, supplies must be driven by truck to the affected areas and personally distributed there, as local post offices are not able to handle, sort and distribute all of the items that would be arriving by post," said Dr. Jonathan Blanke, an LCMS career missionary based in Tokyo, in an email to the LCMS. "Assistance in the area is currently forecasted to be ongoing for three years (March 2011 to 2014), with adjustment to that schedule as needed."
WR-HC Interim Executive Director Rev. John Fale emphasized the need for a long-haul commitment. "Dr. Blanke's comments confirm our experience in other areas of the world that have been decimated by earthquakes, tsunamis and flooding: outside assistance will be needed for years to come," he said. "The long-term response of the LCMS with Lutherans in Japan will enable us to bring the Gospel and mercy of Christ to those who have suffered the loss of loved ones, homes, jobs and personal possessions. This is what we are being called to."
Along with the JLC, the Japanese Lutheran partners include the Japan Evangelical Lutheran Church, the Kinki Evangelical Lutheran Church and the West Japan Evangelical Lutheran Church. Support from the partners will assist all people affected by the earthquake and t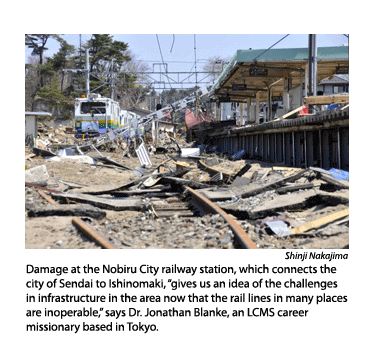 sunami, not just Lutheran church members, said LCMS World Mission's Rev. Carl Hanson, who shared an update from Rev. Masahiro Ando, director of the JLC disaster support team.
"They are finding out ways they can work in some of the most damaged areas," said Hanson, area facilitator for East Asia with LCMS World Mission, in an email following an April 2 consultation with Ando. "While there are no Lutheran churches in these areas, they want to share God's love to the people in places like Kesennuma, Tagajo, both in the Miyagi Prefecture."
Within the next two to three months, Hanson said, Japanese Lutheran partners say they hope to begin sending pastoral-care assistance to help with spiritual needs in impacted areas in Japan, a country where less than 1 percent of the population is Christian.
At this point, Japanese Lutheran partners are not asking WR-HC to send Mercy Medical Teams of volunteers because of concerns raised by the Japanese government and local communities. "Due to these complications, they are not requesting any teams at this time," Hanson said.
More than three weeks after the earthquake and tsunami, the official death toll climbed to 11,938, with more than 15,000 reported missing, according to Japan's National Police Agency. Some 165,000 people live in emergency shelters, while thousands have been forced to flee their homes because of radiation that continues to leak from the Fukushima nuclear plant damaged by the tsunami.
Just as Lutheran partners prepare for a long-term response in Japan, concerned Christians in the United States continue to give. As of April 4, LCMS donors had provided more than $550,000 to LCMS World Relief and Human Care for disaster response in Japan.
To contribute to the Synod's response to the Japan earthquake and tsunami:
mail checks (noting "Japan Disaster Relief" in the memo line) to LCMS World Relief and Human Care, P.O. Box 66861, St. Louis, MO 63166-6861.
call toll-free 888-930-4438.
give online at Disaster Relief Fund for Japan.
Download an updated Japan disaster response bulletin insert at /wp-content/uploads/2011/03/Japan20110321_insert.pdf.
For more information and resources, visit www.lcms.org/help or www.lcms.org/worldrelief.
Kim Plummer Krull is a freelance writer and member of St. Paul's Lutheran Church, Des Peres, Mo.
Posted April 5, 2011