In a video released May 25, LCMS President Dr. Matthew C. Harrison asks Lutherans to pray for all those affected by recent storms — especially the devastating May 22 tornado in Joplin, Mo. — and to "give generously" to those who need help.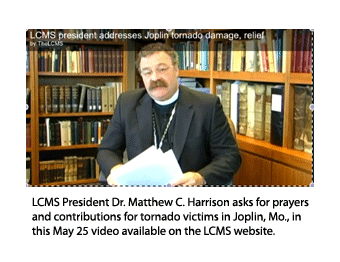 "Our people from LCMS World Relief and Human Care — Glenn Merritt, disaster director, and also Carlos Hernandez — are just now coming into Joplin and will be assisting our people there in struggling through this great challenge," Harrison says in the video.
"I come to you today to ask you, yet again, to remember these people in your prayers. We have many of our own LCMS people who have been affected and many, many LCMS people even now are responding in that community, their own community, and the network of LCMS and Lutheran response is amassing to provide assistance."
Harrison continues, "We ask for your prayers all across the country and throughout all of our 6,000-plus congregations. We also ask you to give generously. Please. There is much work to be done. There are great needs and people are suffering."
To watch the video, click here.
Posted May 26, 2011