Rodger Hebermehl, who served as executive director of Lutheran Hour Ministries (LHM), St. Louis, from 1996 to 2003, died May 22 after a long battle with ALS (Lou Gehrig's disease)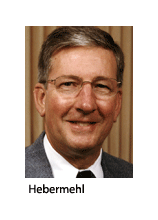 . Hebermehl, 67, died at his home in Mount Carmel, Ill.
A funeral service was held May 26 at Hope Lutheran Church, Mount Carmel.
A memorial service is planned for 1 p.m. on Tuesday, May 31, at Greenlawn Memorial Park in Fort Wayne, Ind.
When he retired, Mr. Hebermehl called LHM "the strongest outreach ministry organization in the world," and said it had been "an honor and a blessing to help further the work of LHM" during his years of service.
Current LHM Executive Director Bruce Wurdeman said, "Rodger was a gentleman and a man of God. He will be missed by many."
Prior to joining LHM, Mr. Hebermehl served in the Air National Guard of Indiana and worked as a mechanical engineer. He was director of Value Stream Operations, NORDAM, in Tulsa, Okla.
Mr. Hebermehl is survived by his wife of 47 years, Cassandra; a daughter, Camilynn (Clark) DeShon of Mount Carmel; and four grandchildren. Preceding him in death was a son, Rian William Hebermehl.

Memorial contributions may be made to TIP Hospice in Mount Carmel or the ALS Association of Indiana.
Condolences may be made online at www.short-cunninghamfh.com.
Posted May 25, 2011/Updated May 26, 2011