By Kim Plummer Krull
Two children, ages 6 and 8, from a member family at First Lutheran Church in nearby Neosho, Mo., are among 132 confirmed deaths from the devastating twister that ripped through Joplin, Mo., on May 22. The children's mother and her 2-year-old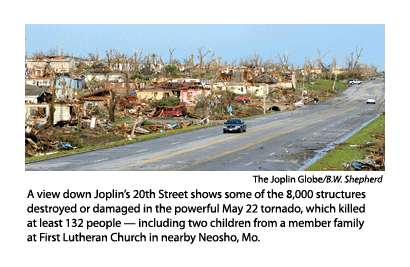 child were hospitalized.
Member families at Immanuel Lutheran Church in Joplin and four teachers at the church's Martin Luther School are among the many who lost loved ones and homes and suffered injuries in the storm, which slammed into a hospital and leveled neighborhoods.
LCMS World Relief and Human Care (WR-HC) has continued to get reports about LCMS-related losses after the storm, the single deadliest tornado in nearly six decades, according to news reports, and the latest violent weather to batter congregations and communities in the Midwest and South during this disaster-filled spring.
"The reports that I have received indicate that up to 75 percent of the city of 50,000 has sustained some damage with much of the damage catastrophic," LCMS Missouri District President Rev. Ray Mirly said in a press release distributed a day after the killer tornado destroyed what may be thousands of homes and businesses, including a huge Home Depot and Walmart.
The twister decimated "homes and lives as near as one block away from our church and school," according to the Immanuel website (www.immanueljoplin.com). The church home page listed member families, asking them to contact the church with their status since the storm. By May 24, at least eight member families had reported "lost" homes; several members reported personal injuries; one family reported that a brother died in the tornado.
Through its website, Immanuel offered to connect church members with storm survivors needing shelter. "Immanuel is committed to finding our members and helping our community in Jesus' name," the website said.
Other reported LCMS-related tornado losses and injuries included:
the son of Illinois pastor Dr. Dennis Aubey, Jordan, who needed surgery after an injury and "lost everything" in the twister, according to a report from Lutheran Church Charities, a Recognized Service Organization in Addison, Ill. Jordan Aubey is a Joplin TV news reporter; his father is pastor at Christ Our Savior Lutheran Church, Winfield, Mo.
four Martin Luther School teachers who lost homes, according to an email from Principal Jeremy Schamber. On May 23, Schamber said he was "still trying to contact school families." The twister also damaged the school, where the academic year had ended, and the parsonage at Immanuel, Joplin's only LCMS congregation. Immanuel's teachers and church staff were unharmed, Schamber said.
Jackie Duncan, the mother of KFUO Radio Operations Manager Gary Duncan, who was hurt when the tornado tore through St. John's Regional Medical Center where she was recovering from brain surgery. KFUO is an LCMS broadcast ministry. The storm's force pulled his 76-year-old mother and visiting brother "down the hallway, with debris flying everywhere," said Duncan, adding that he was thankful his family members were not among the five patients and one visitor who, according to news reports, are among the storm's fatalities. Jackie Duncan was transferred to a Springfield, Mo., hospital.
Also destroyed was Peace Lutheran Church, Joplin, a congregation of the Evangelical Lutheran Church in America. A half-dozen Peace member families' homes also were lost or severely damaged, according to the ELCA News Service.
"This [devastation] is bad, really bad for such a small city," said WR-HC's Rev. Glenn F. Merritt, director of Disaster Response, who planned to travel to the southwestern Missouri city on May 25. "The recovery will be more difficult because so much infrastructure has been destroyed."
The day after the storm, WR-HC made available up to $50,000 for disaster response efforts and announced plans to work with the Missouri District through Immanuel Lutheran Church, Martin Luther School and Immanuel Pastor Rev. Gregory Mech to meet needs in Joplin.
Devastation in Alabama
The upcoming trek to Joplin would be the latest shattered community where Merritt and the WR-HC Disaster Response team would offer pastoral care and a helping hand this spring. They also went to hard-hit communities in Alabama, which bore the brunt of April twisters that roared across six Southern states, killing more than 300 people.
Nearly one week after that historic storm outbreak, Eleanor Allen looked at the rubble where she once lived and wondered aloud how she could put her life back together. The member of Pilgrim Lutheran Church, Birmingham, described how she and her daughter, Ashley, held each other as the April 27 tornado leveled their home.
"It's just amazing that nothing hit us because nothing was protecting us at all," the psychologist and school counselor said in a video interview with WR-HC. "By the grace of God," she said, she and Ashley escaped with only minor injuries. (To watch video interviews with LCMS members talking about the storms and see pictures of the tornado damage, visit www.lcms.org/disaster/tornado or go to the WR-HC Facebook page, www.facebook.com/LCMSWRHC.)
"We're seeing some very urgent needs — day-to-day survival needs for food, clothing, transportation assistance and to get trees off roofs," said WR-HC's Rev. Carlos Hernandez, director of Districts and Congregations, who, along with WR-HC's Rev. Darrell Howanitz, also served on the Disaster Response team that helped pastors and lay leaders in Alabama assess needs and get the ball rolling on emergency grants.
Along with assisting with financial help for physical needs, the team prayed with families.
"When donors support our work, that allows us to bring spiritual care to devastated homes — not just money for grants," said Hernandez. "Our presence, that the church is there for people, surprises them but is also so welcomed. It's also an enormous encouragement to pastors who have their hands full when a disaster hits."
Grants for physical, spiritual needs
Four days after a tornado devastated Cullman, Ala., on April 27, congregation leaders thought maybe 35 people would take a break from sifting through debris and cleaning storm damage to participate in worship at St. Paul's Lutheran Church.
Instead, nearly 170 people packed the fellowship hall on May 1, including Kenneth Neal, who asked to share "a simple story" about guardian angels.
Neal told how he fled to his basement and crouched under a stairwell as he felt a killer tornado shift his house and collapse the upstairs floor. When he managed to crawl out of a three-foot hole in the rubble, the 77-year-old farmer and St. Paul's member said he saw destruction everywhere, but he escaped without a scratch or a cut.
"I had a guardian angel directly over me," Neal told Merritt after worship, explaining that he felt "the necessity" to go to church and share how "there is a God and there are guardian angels."
Merritt called the damage "so widespread in Alabama, it's impossible to take it all in." He arrived April 30 with the first WR-HC Disaster Response team to visit the battered state. "Over four days, we're not able to go to every community that has been hit hard, but we're doing the best we can to touch base with as many congregations that we can, check with their members who have damage and go into the communities to see what their needs are," Merritt said.
In Tuscaloosa, storms damaged Holy Cross Lutheran Church "but not as badly as compared to the rest of the neighborhood," Merritt said. As one of the neighborhood's few buildings with running water and functioning restrooms, Holy Cross opened its doors to the community and distributed grilled hot dogs.
In Birmingham, the Disaster Response team traveled with Rev. Perry McCullam through neighborhoods in one of most devastated cities. McCullam serves Pilgrim and Prince of Peace Lutheran Churches in Birmingham and Zion in nearby Bessemer. An $8,450 grant to Pilgrim helped families with costs for transitional housing and to replace food lost in power outages.
Team members also accompanied Rev. David Moerbe and Rev. Ed Brashier, senior pastor and associate pastor, respectively, at Good Shepherd Lutheran Church, Gardendale, to pray with storm survivors and assess damages. To help with the huge need for tree removal in several communities, WR-HC awarded a $5,000 grant to Shepherd's Heart Ministry.
"In my 30 years of disaster response (20 years as a lineman for Alabama Power Co.), I have not seen so many trees blown down that are as large as the trees blown down in this storm," Brashier wrote in an email to WR-HC. Brashier founded the Shepherd's Heart Ministry to help clear storm debris.
In addition to the funds made available in response to the Joplin twister, by mid-May WR-HC had awarded $45,750 in initial grants to Alabama congregations and a relief ministry in response to the April 27 storms. The Synod's mercy arm also provided $19,575 in initial grants to assist with recovery from other weather-related disasters, including storms in Iowa, Missouri and North Carolina and flooding in Illinois.
Grants are helping congregations reach out to both church and community members with emergency needs, including replacing ruined food supplies at schools and community pantries.
Other Alabama grant recipients following the April 27 twisters include:
Ascension Lutheran Church, Huntsville, $11,250.
Grace Lutheran Church, Huntsville, $8,050.
Trinity Lutheran Church, Hanceville, $7,000.
Good Shepherd Lutheran Church, Gardendale, $6,000.
In response to other tornadoes earlier in the month of April, WR-HC previously awarded grants to:
Zion Lutheran Church, Maryland Heights, Mo., $3,500, to assist families recovering from April 22 storms in the St. Louis area.
LCMS Iowa District West, $8,250, to help St. Matthew Lutheran Church, Mapleton, members recover from April 9 storms.
LCMS Southeastern District, $1,000, to assist Our Savior Lutheran Church, Raleigh, N.C., with storm-related needs.
Help for flood evacuees
Floodwaters rose so quickly that one member family of Our Redeemer Lutheran Church, Golconda, Ill., barely had time to grab some clothing before joining rescuers in a motorboat.
"This is the worst flooding since 1937," said Rev. E. James Rivett, pastor of the Southern Illinois church near the Ohio River. At least three member families were among those forced to evacuate in late April and early May because of heavy rains feeding already high rivers.
"They are all worried about what they are going to find when they can get back into their homes," said the pastor, whose congregation collected cleaning supplies and organized volunteers to help with cleanup efforts once the families return to their homes. A $6,825 grant from WR-HC is helping Redeemer assist evacuees.
One couple who lives on a fixed income had been out of their house for nearly two weeks. When their pastor visited, the husband's eyes filled with tears as he said, "The Lord knew we needed help." Rivett's reply: "Yes, and here we are."
Growing relief requests
Because the Synod's mercy arm is getting so many requests for disaster relief, WR-HC ministry leaders are concerned if the LCMS Tornado Disaster Relief fund will have enough funds to provide urgently needed assistance.
"The recent disasters have really depleted already low tornado/flood accounts [for LCMS Disaster Response work]," Merritt said. "This is a huge challenge, but I am confident that the people of the LCMS will respond with caring and compassion to meet the needs."
By May 24, WR-HC donors had given $244,500 to assist congregations and communities through the Synod's tornado relief. As storms continue, additional grants are in the works to meet new requests.
To make a gift:
Mail checks (noting "Tornado Disaster Relief" in the memo line) to LCMS World Relief and Human Care, P.O. Box 66861, St. Louis, MO 63166-6861.
Call toll-free 888-930-4438.
Contribute online (click here).
Kim Plummer Krull is a freelance writer and member of St. Paul's Lutheran Church, Des Peres, Mo.
This story was produced by LCMS World Relief and Human Care.
Posted May 23, 2011/Updated May 26, 2011, and May 27, 2011