"Uno … dos … tres … Jesús es nuestro Sanador!"
That phrase echoed through the foothills of the Andes Mountains in Lunahuanà, Peru, July 6, as more than 30 Peruvians gathered with LCMS missionaries for the first Lutheran worship service in this small farming district.
For many who have been involved in the ministry since it began in 2007, the worship service was an answer to years of prayer.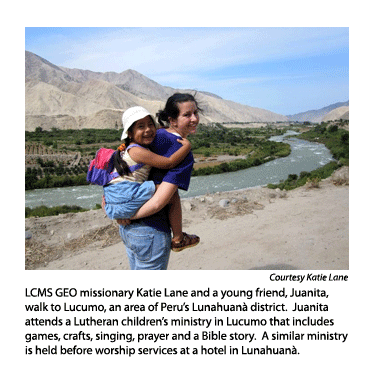 "Jesús es nuestro Sanador" — "Jesus is our Healer" — was the theme for the children's lesson that day. And it carried a double meaning for many of the Peruvian worshippers, who remember why the missionaries came to their homeland in the first place: to help clean up rubble and rebuild homes that were destroyed by a devastating earthquake on Aug. 15, 2007.
Coordinated by LCMS World Mission and on-site missionaries, several short-term mission groups from the United States traveled to Peru to assist in the rebuilding effort.
"As God used these teams to help heal the people physically after the earthquake, it became clear that there was a need for spiritual healing, as well," said Katie Lane, who has served as a GEO (Globally Engaged in Outreach, serving up to two years) missionary in Peru since last September.
Besides Lane, today's LCMS missionary team in Peru includes Anthony DiLiberto, who arrived in fall 2008; Jamie Endorf, who began her service last fall; Rev. Mark Eisold and his family, who arrived in January; and Bruce Wall and his family, who arrived in March.
With the disaster-relief effort finished in Lunahuanà, the mission team's focus began to shift to Lima, about three hours northwest. But Bible studies, a children's ministry and confirmation classes had begun in Lunahuanà, and a de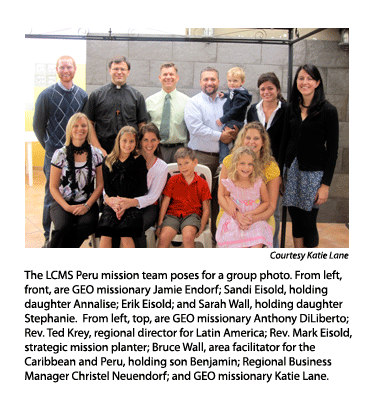 sire for corporate worship was growing. So the LCMS mission team pledged to return to Lunahuanà twice a month to hold worship and continue the adult Bible study and children's ministry.
A few local leaders have been tapped to read Scripture during worship, pray before Bible studies and help promote the Lutheran events in the community, according to Lane. "We hope to continue giving more responsibilities over to Peruvian leaders in the upcoming months," she told Reporter.
Says Lane: "Looking back almost four years ago, it is amazing to see how the Lord has healed, both physically and spiritually. It is also incredible to know that He will continue to faithfully restore that which is broken in the lives of the people of Lunahuanà and in the lives of all His children."
Posted July 22, 2011