By Kim Plummer Krull
As the most powerful aftershock yet rattled the coast off northeastern Japan on March 22, LCMS World Relief and Human Care (WR-HC) continues to work with Lutheran partners and prepares to assist with long-term recovery in a cou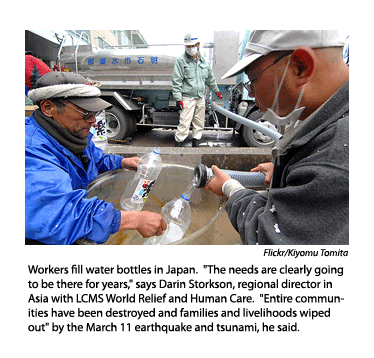 ntry where reports indicate several hundred thousand evacuees still live in shelters.
"The needs are clearly going to be there for years," said Darin Storkson, WR-HC regional director in Asia, hours before the 6.6 tremor, one of three aftershocks that caused no casualties or significant damages, according to early news reports. "Entire communities have been destroyed and families and livelihoods wiped out" by the March 11 earthquake and tsunami, he said.
As a result of gifts from donors in excess of $300,000, WR-HC is making available up to $300,000 in grants to Japanese Lutheran church bodies.
While the LCMS has committed significant financial support for Japanese Lutherans to meet needs, Storkson says additional LCMS support likely will be most needed for long-term recovery, perhaps in communities with unmet needs where WR-HC traditionally seeks to serve.
LCMS resources might be effectively, efficiently and strategically utilized in the post-emergency phase "when our Lutheran partners can actively participate in a program that fills an overlooked niche in the name of the church," said Storkson, who is working in close contact with Rev. John Mehl, LCMS World Mission's regional director for Asia.
Japanese Lutheran partners have been provided with information about LCMS Mercy Medical Teams, the WR-HC program that sends medical volunteers to serve needy communities in conjunction with local Lutheran partners. "We are always ready to serve in this capacity, but it is culturally important that we listen to our Lutheran partners in Japan for direction about the appropriate response for them," said Maggie Karner, director of Life and Health Ministries with WR-HC.
While the teams served in Haiti soon after the January 2010 earthquake, Karner stressed that the Japan disaster involves different needs and a different response based on what Japanese Lutheran partners deem most appropriate and helpful.
Just as needs continue, caring Christians continue to give, according to Hans Springer, WR-HC associate executive director for Fund Development.
"Even though this disaster is beginning to fade from the headlines, we are thankful for our many generous donors who realize that people continue to suffer in Japan and rebuilding needs will continue for months and even years to come," he said.
Springer thanked congregations who have shared plans to raise support for Japan disaster response through local fundraisers and by using the newly updated, downloadable bulletin insert (click here).
LCMS President Rev. Matthew C. Harrison says that continued prayers and financial support are needed by Japanese Lutheran partners — small churches sharing the Gospel in a country where Christians account for only a tiny percentage of the population.
"Luther commented on St. Paul's statement in 1 Corinthians, 'When one member suffers, all suffer.' He said the church is a body. When the toe is stubbed, the whole body writhes in pain, bends over and attends to the little toe. So it is with our Japanese brothers and sisters in Christ," Harrison said. "These are small churches in a small Christian population that is only 1 percent in Japan. They are our brothers and sisters, and we must — we will — stand with them as they care for their own and others outside the church."
To contribute to the Synod's response to the Japan earthquake and tsunami:
mail checks (noting "Japan Disaster Relief" in the memo line) to LCMS World Relief and Human Care, P.O. Box 66861, St. Louis, MO 63166-6861.
call toll-free 888-930-4438.
give online at Disaster Relief Fund for Japan.
For more information and resources, visit www.lcms.org/help.
Kim Plummer Krull is a freelance writer and member of St. Paul's Lutheran Church, Des Peres, Mo.
Posted March 22, 2011/Updated March 23, 2011