By Kim Plummer Krull
Before heading home to Howell, Mich., from the Laborers For Christ (LFC) annual conference, John Gallmeyer spoke about how Laborers often draw "fringe members" back to a congregation and open a door to witness opportunities in curious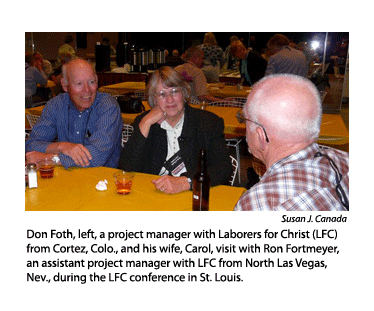 communities. He also reflected on how the ministry can offer personal spiritual renewal.
"I was coasting along [in my faith] when I got involved [in Laborers]," Gallmeyer said. Beginning with his first LFC project nearly 20 years ago, the former Ford Motor Company employee said that taking part in devotions, Bible study and fellowship with Laborers and congregants helped him discover that "there's more to faith than just going to church on Sunday."
"I've matured and am stronger in my faith today," Gallmeyer said. "I always leave [a project], and will leave this conference today, with more than I came with."
More than 75 LFC leaders and their spouses trekked to St. Louis for the conference March 1-3.
"Many congregations can save 10 to 30 percent on a project by working with Laborers," Gallmeyer said. "But I tell those congregations that even if they didn't save a nickel, the strong, faith-building process that Laborers bring to a project is more important than saving money."
While the economic downturn has put many projects on hold, Laborers want fellow Lutherans to know they are eager to work for LCMS organizations — to help build and remodel facilities and, more important, Laborers say, to witn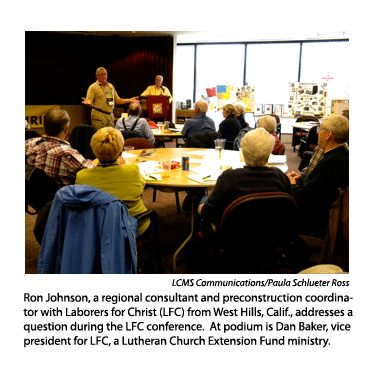 ess and strengthen ministry.
The scope of work Laborers tackles varies from new construction and remodeling of existing structures to maintenance, short-term projects and energy-efficiency improvements, said Marcy Scholl, LFC manager.
"We also offer project management only, which can provide the greatest savings of all," Scholl said. With this service, an LFC project manager provides a high level of oversight, including coordinating equipment, budgets, materials, schedules and subcontractors.
Project managers at the conference shared insights on recent projects. These included building cabins at Camp Lakeview in Indiana; project management at Martin Lutheran School in Joplin, Mo.; and remodeling a gym at St. Paul Lutheran High School in Concordia, Mo.
In addition to discussing how best to serve the LCMS, Laborers learned about new products (including an environment-friendly insulation made from blue jeans) and participated in training sessions on installing metal doors, weatherproofing foundations and dealing with subcontractors.
"We continue to raise the bar on our professionalism," said Dan Baker, vice president for LFC, a Lutheran Church Extension Fund (LCEF) ministry.
"We're getting inquiries [for LFC services] regularly," Baker said. "Now is a good time for congregations to build, while interest rates are still down and material and construction costs are low."
An emerging trend is interest in reducing energy costs, Baker said. Changing light fixtures and using the proper insulation are some ways organizations can cut energy costs and take advantage of utility company incentives.
Grants and rebates may be available for congregations that reduce energy usage, Baker said. (To learn more about improving energy efficiency, visit www.lcef.org/products_services/services/lcms_organizations/energy_efficiency.cfm.)
An update on a 2006 project sparked a bittersweet moment at the conference. Members of Immanuel Lutheran Church, Crystal City, Mo., presented LFC with an $8,000 gift, a portion of the congregation's share of proceeds from the sale of Christ the Vine Lutheran School in Herculaneum.
"Not only did Laborers build a beautiful, quality building for us, they lived among us and served as salt and light as they lived out their faith and their commitment to our Lord Jesus," said Rev. Jarold Rux, Immanuel's pastor, after the conference. "It was only appropriate that our congrega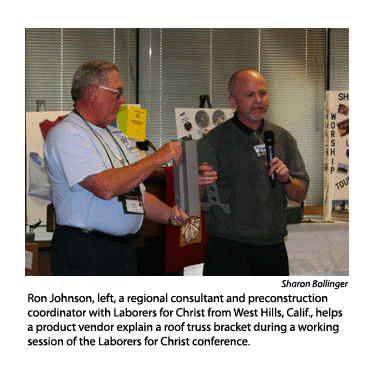 tion chose to make a gift to Laborers For Christ after all the gifts they shared with us and the school's other parishes."
Immanuel was one of four congregations in the Jefferson County Lutheran School Association that participated in the LFC program to build the school. Christ the Vine opened in 2003 and closed in 2009 due to economic challenges.
Laborers recognized longtime service, including 20-year veteran Bob Shelton, Sedgwick, Colo., and 15-year veterans Don Foth, Cortez, Colo.; Bob Natzke, Greenleaf, Wis.; and Scholl, of Ballwin, Mo.
While some assume every Laborer is a male retiree, conference attendees proved otherwise. Judie Rick, a former Realtor from Holmen, Wis., calls LFC "a good way to keep busy, keep healthy and spread God's Word."
Ian Schonsheck, 57, of Northville, Mich., works part time managing investment real estate and serves as an LFC preconstruction coordinator. After the conference, Schonsheck headed for a presentation with a Wisconsin congregation planning to build in 2012.
Both LCMS President Rev. Matthew C. Harrison and LCEF President and CEO Rich Robertson thanked Laborers for their service. Harrison gave an overview of the new Synod emphasis "Witness, Mercy, Life Together," focusing on how Laborers bring the third component — fellowship — to their ministry.
"It's an honor to have your capacity, your ability, your hammers, saws and RVs," Harrison said. "It's an honor that you would spend your years doing this kind of work. Thank you very, very much. You really help make the church a church, and we're grateful to you."
Robertson said he wants "every LCMS congregation and school to have a chance to work with Laborers and see that their service goes well beyond the construction component, which they aptly perform. Their strength is that they view this as a ministry, not a job, and make great sacrifices to do it."
In an interview after the conference, Robertson said organizations that pair up with Laborers "always come out spiritually enriched and more motivated to serve their community."
Since Laborers For Christ was founded in 1980, the ministry has helped congregations and organizations complete more than 800 projects. The Laborers roster has grown to include some 350 men and women. To learn more, call 800-854-4004, ext. 6446, send an e-mail to laborers@lcef.org or visit www.lcef.org?lfc.
Kim Plummer Krull is a freelance writer and member of St. Paul's Lutheran Church, Des Peres, Mo.
Posted March 23, 2011/Updated March 24, 2011